Dainik Bhaskar raises awareness on Sustainable Development Goals tbrough 'Comics for Change'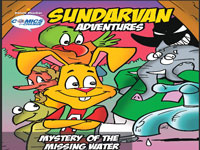 On the occasion of World Environment Day 2016 , Dainik Bhaskar, India's largest and World's fourth largest circulated daily , has unveiled the first of the 3 part series of comics named 'Comics for Change' to promote responsible consumption of water, food and electricity through creative storytelling. Just as vividly as comics convey the feats of superheroes, 'Comics for Change' will also leverage the power of visual storytelling to amplify awareness amongst children and youths about the Sustainable Development Goals related to minimizing Water, Food and Electricity wastage thereby helping them to become more responsible citizens. The other two comics will be published on Food and Electricity.
Mr. Girish Agarwal, Director, Dainik Bhaskar Group said "Using Superheroes to weave stories around issues that matter to us is an interesting way to bring about a significant change in the society by creating super heroes of tomorrow" says. Ms. Isabelle Louis, Acting Regional Director, UNEP Regional Office for Asia and the Pacific complimented Dainik Bhaskar's initiative and said "The launch of this comic book series in India for children and teens to help them better understand the importance of environmental conservation and a sustainable lifestyle, strengthens UNEP and World Environment Day's global advocacy of awareness and action to protect our environment," said. Ms. Lise Kingo, Executive Director, UN Global Compact, New York conveyed her support and said "The UN Global Compact's Ten Universal Principles provide a universal definition for responsible businesses. Global challenges like food and water crises are in need of contribution from the private sector. Companies that do business responsibly find opportunities to innovate around sustainability will be the business leaders of tomorrow".
Mr. Pooran Chandra Pandey, Executive Director, UN Global Compact Network India, also praised the initiative and said "I would like to congratulate Dainik Bhaskar to come up with such a wonderful initiative to make children aware of Sustainable Development Goals, also called as Global Goals, pertaining to Water and Climate action"
Being signatory to UN Global Compact Network, Dainik Bhaskar Group's CSR initiatives contribute to UN Sustainable Development Goals of Quality Education, Zero Hunger, Clean Water and Sanitation, Sustainable Cities and Communities and Climate Action.
One can download the free e-comic at:
http://i10.dainikbhaskar.com/dainikbhaskar2016/images/Comics-For-Change.pdf
or
http://clubpimble.com/assets/images/Comics-For-Change.pdf