The great public sector charade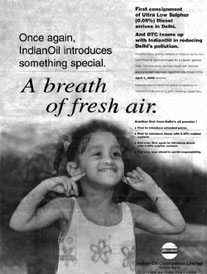 WITH September 17, the next date for the Supreme Court (SC) hearing on the air pollution case in Delhi, approaching, the Indian Oil Corporation (IOC) has suddenly done a volte-face. Despite the Union ministry of petroleum and natural gas (MPNG) having submitted an affidavit to SC, stating that it will not be able to supply ultra low sulphur diesel (ULSD) to Delhi, IOC has just announced that its refineries will be producing it. This, and reports from other quarters, indicate that ioc is reacting to pressure from the Reliance group, which had earlier claimed that it would be able to supply ULSD for Delhi. This clearly shows that the public sector undertaking is more concerned about safeguarding its market share than about public health in Delhi, which is under severe threat from increasing vehicular air pollution in general and diesel exhaust emissions in particular.

The same seems to be the case with the automobile industry. When confronted with the problem of vehicular air pollution in Indian cities and the threat of diesel in particular, it argues that the number of diesel vehicles is increasing in Europe, where switching to diesel is considered one of the best answers to meeting emission reductions to control global warming. But this is not an issue of concern to Delhi. Moreover, there are clear sign that governments in Europe are imposing more and more curbs on diesel. The latest is the city of Tokyo, where the metropolitan government has launched a campaign against diesel to control air pollution.

The automobile industry of India is fast running out of excuses for its dieselisation drive which totally disregards public health and is solely driven by the profit motive.