Singing bhajans to keep cool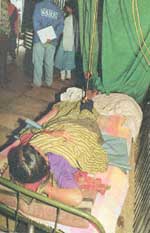 SUDDENLY, everything was gone: home and hearth, families and friends. The earth had danced a tarantella. And thousands in Marathwada joined the army of the living dead. How much time is enough to erase memories of such an upheaval? In the post-disaster period in Marathwada, mental health did not receive any governmental attention. Yet, 5 months after the terrestrial rock-n-roll stopped, people were still dazed.

In the wake of the quake, the Voluntary Health Association of India (VHAI) conducted a 6-month-long survey of 5 earthquake hit villages of Chincholi-Kate, Udatpur, Rajegaon, Murshadpur and Tawashigadh in the Latur-Osmanabad region. With the help of 2 trained volunteers from each village, they screened 7,046 residents.

At least 102 severe cases were identified. Many suffered severe psychological symptoms, predominantly of post traumatic stress disorder. The most frequent symptoms were recurrent recollection of the event, difficulty in concentration, sleep disturbances, exaggerated and startled responses and a sense of a foreshortened future.

Many patients suffered overlapping of more than one symptom. The VHAI treatment package consisted of group therapy, pharmacotherapy and non-formal education and recreational activities.

And in lieu of governmental support, local residents have chosen to soothe their frayed nerves by singing bhajans (devotional songs) in their village mandalis (choir groups).