Against the wall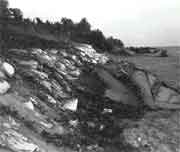 the Kerala government plans to construct 96 kilometres (km) of seawall and restore 48 km during the Ninth Five Year plan. The construction work will cost Rs 310 crore. The government has already spent more than Rs 200 crore for construction of seawall. At a time when coastal erosion is posing a serious threat to many stretches of the 570-km long coastal zone of Kerala, the government's initiatives have failed.

"The failure of seawalls can be attributed to improper construction and maintenance and aggravated erosion status of the coast' says M Baba, head of marine sciences division, Centre for Earth Science Studies ( cess ), Thiruvananthapuram.

In the last four decades, the state government has constructed more than 348 km of seawall to save Kerala's coast. But due to ineffective government policies and improper coordination among irrigation department, which is constructing the walls, and research organisations, the whole initiative has been a farce. K M Nair, former director of cess, said that the nodal agencies are not working in coordination with research organisations.

The construction of seawalls in Kerala started as an emergency measure to protect thickly-populated areas and highways. But the concept of constructing seawall has been ineffective in high erosion sites such as Puthanthura in district Thiruvananthapuram. "Seawalls are totally unsuitable if the coast is used for tourism and development-related activities, beach-based recreation and shore-based fishing,' says Baba.

A study of the cess has shown that erosion of the coastal areas takes place during the southwest monsoon season. Apart from wave-induced erosion, excessive sand mining in several rivers in Kerala has also aggravated the problem.

However, the minister of industry, mining and geology, Susheela Gopalan, blames the Union government. "It is the responsibility of the Union government to prevent such erosion in the coastal areas. We have asked the Union government for funds, but our efforts have been futile. Due to lack of financial assistance from the Centre, it is getting very difficult to prevent coastal erosion,' she told Down To Earth.

Some researchers argue that there is no need of more funds. "If the concerned departments utilise the available funds, the problem of coastal erosion could be effectively managed,' they said.

"Seawalls are being constructed in the state without assessing the natural processes and requirements. It is a very expensive proposition,' said Nair. In some areas, it is better to rehabilitate people than construct seawalls, he added.

R Radhakrishnan, president, Kerala Shashtra Sahitya Parishad, Thiruvananthapuram, said: "Most of the money is being eaten by contractors'. At present, humans are causing more destruction to the coasts than nature, Baba says.
Related Content
Order of the National Green Tribunal regarding violation of environmental norms by ACC Cement, village Salai Banwa, district Sonbhadra, Uttar Pradesh, 17/05/2023
Order of the National Green Tribunal regarding illegal blasting and mining by Jindal Saw, Bhilwada, Rajasthan, 01/07/2021
Order of the National Green Tribunal regarding overburden dump of NCL, Kharia, Shakti Nagar, Sonebhadra, Uttar Pradesh
Order of the National Green Tribunal regarding illegal mining and stone crushing units in Rajmahal hills, Sahebganj, Jharkhand, 23/09/2020