Writing off the world`s forests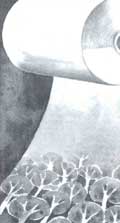 THE technocrats' promise to make every office paperless by the turn of the century doesn't seem to have made a dent in consumption: in the North, the per capita has shot up to an unsustainable 120-150 kg, and 0.2 to 30 kg in the Asia Pacific. Worse still, the Food and Agricultural Organisation predicts that the overall global consumption of paper will rise by about 80 per cent by 2010 AD. Ke Zhang of Beijing Institute of Light Industry warns: "Imagine when China achieves the world average of per capita paper consumption of 45 kg for a population of 1,171,710,000, how much raw material we will have to harness."

Unless the rush for more natural fibre to sustain the burgeoning demand is managed with strict caution, the world can say goodbye to its forests. In 1991, 253 million tonnes of fibre were used to produce 243 million tonnes of paper. Of the raw material, about 61 per cent was wood pulp, 6 per cent was pulp from non-wood fibre like agricultural residues and bamboo, and 33 per cent was from recovered paper.

Thankfully, a global strategy is in the offing to help taper off the negative impact of each stage of paper production -- from fibre sourcing and processing to final disposal. In 1993, the United Nations' Business Council for Sustainable Development announced a wideranging inquiry into the vicious paper cycle, and commissioned the London-based International Institute of Environment and Development (IIED) to undertake the research. "The move is aimed at providing government and industry with major recommendations to direct one of the world's key industries towards sustainability. The industry should have its ecological rucksack," says Richard Sandbrook, executive director of the IIED.

As part of the global consultation, a workshop on a sustainable paper cycle was jointly organised by the IIED and the Thailand Institute of the Environment to corral select Asian countries in Bangkok in February to work out indicators of sustainability in various diverse national contexts. It's mandate was to map out the intricate links worldwide between fibre supply, processing and manufacture, consumption, reuse and final disposal.

Discussions at the workshop concentrated mostly on the profile of the paper industry in various countries and the attempts being made for a technical solution to pollution, recovery and recyling. India chipped in with the warning that ensuring maximum social benefit from fibre-sourcing, either by promoting plantations in private farms or encouraging community management of forests, is critical for the survival of the paper industry in the developing world, where forests are part of local livelihood systems.

Interestingly, the developed world gets nearly all fibre from wood pulp (66 per cent) and the rest from recovered paper. In contrast, developing countries get only 30 per cent fibre from wood pulp and 33 per cent from non-wood sources like bagasse, agricultural residues and bamboo, and the rest from recovered paper. This is ample indication of a lesser dependence on forests as compared to the developed countries. Pulpwood production is currently concentrated in the temperate regions of the USA, Canada, Russia and the CIS, Brazil, Sweden, Finland, France, Germany, Chile and Japan.

Some developed countries, under pressure to manage their forests more sustainably, are frantically exploring the possibilities of substituting raw material from other regions of the world. In this changing equation, the Asia Pacific region is in grave danger of being targeted as the alternate raw material base. Says Michael Jensen of the FAO's regional office for the Asia and the Pacific, "While it is possible to pulp virtually any species of tree, large volumes of similar species are needed to make pulping economically and technically viable. This, therefore, generally precludes the use of highly mixed tropical forests of this region."

But the scenario is changing rapidly as the global paper industry greedily looks to tropical forests not for the marvels they hold but to homogenise and restock them with the most lucrative species of paper plantations. Ominously, the Asia-Pacific region leads the tropical world in the establishment of forest plantations, more than 70 per cent of the global total. According to Jensen, the Asia-Pacific's tropical countries have already sowed almost 32 million hectares of plantation and are adding to this total at a rate of more than 2 million ha per year.

As a consequence, this region lost 3.9 million ha of natural forests annually in the decade between 1980 and 1990. Japan, the world's largest importer of wood pulp and wood chips, is now casting the evil eye on Asian countries for fibre sourcing. It had earlier sourced mainly from the US. Itochu Corp, one of Japan's largest general trading companies, recently bought 5,000 ha of state-owned land in Vun Tau state in southern Vietnam to grow paper chips. Itochu floated a new company, Technoforest, to send specialists to Asian countries such as Thailand, Vietnam and China. They will provide information and technical guidance for raising plantations and to initiate research into suitable sites for paper plantation. Yet another Japanese company, Oji Paper Company, has begun trial plantations in Fiji, Papua New Guniea and Vietnam.

What is disturbing is that this commercial raiding comes when Asian countries are themselves looking for alternative sources of raw material and restricting their own use of forests. Regulations cropped up in the aftermath of rampant logging and replanting. In extreme cases, bans have been imposed on logging, as was done in Thailand in 1988. India's forest policy of 1988 barred industry from sourcing raw material from forests. They were asked to raise their own raw materials, preferably through farmers. Indonesia then followed suit with its "Technical guidance on criteria and indicators"(what on earth is this?) in 1993 to regulate the management of forests.

Increasingly cut off from its forest base, the Asia-Pacific's paper industry is moving towards non-wood fibre sources. About 20 per cent of pulp in this region is derived from non-wood sources like rice straw, bagasse, bamboo, and reeds. In fact, China and India are the world's leading producers of non-wood pulp.

But even this path to sustainability is beset with problems because many non-wood fibres have alternative uses, no less important than paper. The fierce competition affects its steady supply. Bagasse, for instance, which is a waste from the sugar industry, is also an important fuel source. But only a minuscule proportion is released for alternative uses. N J Rao, professor at the Indian Institute of Paper Technology, Saharanpur, India, points out the need to bring together the sugar and paper industries for more efficient material flow. For instance, the Tamil Nadu-based Sheshasayee Paper Mills has taken an innovative recycling step: waste water from the mill is routed to the sugarcane fields managed by farmers' cooperatives. Sugarcane is then fed to the sugar mill and bagasse from it is returned to the paper mill.

To circumvent the raw material crunch, waste paper recovery as a fibre source is emerging as the major issue in sustainability. Waste paper accounts for 30-odd per cent of the fibre input worldwide, and 45 per cent of the fibre input in the Asia-Pacific. The US currently provides about 50 per cent of world's waste paper.

Many Asian countries have not been able to achieve a satisfactory recovery rate of waste paper, although some governments are gearing up to frame policies on recycling. The recovery rate in Asia varies from 10.8 per cent in the Philippines to 53 per cent in Japan. Says Naiyana Niyomwan, director, Chemical Industry Department of the Thailand Institute of Scientific and Technological Research, "In view of the rising prices of the paper pulp and accelerated demand for secondary fibre, the problem of shortage of waste paper is going to get aggravated, causing hardship to the Asian countries which depend mainly on imported waste paper because of ineffective domestic waste paper recovery." Waste not, want not, seems to be the new sardonic creedo of the Indian paper industry.
Related Content