`Nature`s gardeners` to the fore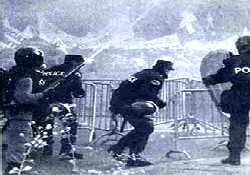 AS THE December 15 deadline of the Uruguay Round of the General Agreement on Tariffs and Trade (GATT) approached, European farmers occupied centre stage by protesting various points of the agreement and forcing their respective governments to take uncompromising stands. While European and American agricultural negotiators pledged tariff cuts, farmers from all over Europe gathered in Geneva to oppose any farm deal that will require any sacrifice on their part. And this provided the crucial backdrop to GATT: agriculture.

Do you know why Mauritian sugar is exported raw and refined in London and Lisbon? Or why Senegal does not export its peanuts toasted, salted and packed; why the UK is world's biggest exporter of tea without producing as much as a leaf, and why Europe dumps its meat in Africa at throwaway prices, strangling local production?
Colonial roots In theory, all are equal in international trade. But in reality, some are more equal than others. Some of the trade distortions have their roots in the colonial era, when conquered territories were used to grow agricultural raw materials to feed the mills in Manchester.

Even after achieving independence, Third World countries failed to develop industries that would transform their farm products -- not merely because of lack of technology, but mainly due to lack of market opportunities for their finished products. If coffee from the Third World arrived in Europe ready to be used, hundreds of roaster units in Italy, France and Germany would have to close shop.

The transformation of agricultural raw material into finished products in the South will cause the loss of thousands of jobs in the North. Therefore, heavy duties are imposed on the import of finished agricultural products. Brook Bond buys buy tea leaves from India at cheap prices, processes it in the UK and sells it worldwide. The value added does not go to the Indian tea producer, but to the multinational.

In all fairness, it is legitimate for a country to safeguard its industries and jobs. But doing it at the expense of others is protectionism, the biggest hurdle in international agriculture trade. The Uruguay round of negotiations launched in 1986 aspires to abolish all trade barriers in farm products. It is presumed that not just developing countries, but the world in general, will benefit on several counts from this process of liberalisation. It was agreed in Uruguay that the developing countries would get adequate compensatory measures wherever necessary.

Agriculture is not, by any stretch of imagination, only a North-South issue. It divides the industrialised countries, all competing for greater markets and safeguarding jobs.

For the past two years, progress in the Uruguay round has been stalled because the US and the European Community (EC) have been wrangling over agriculture. Agriculture weighs heavily politically and emotionally in most of the countries characterised by small and big farmers, romantically called the gardeners of nature. The EC produces an annual surplus of 15 million tonnes of cereals. To sell it in the world market, world exports are heavily subsidised by Brussels.

On the eve of the December 15 deadline, thousands of farmers opposed to GATT marched through Geneva to the building where their leaders were to meet GATT director general Peter Sutherland. Organisers of the rally said 6,000 protestors -- mostly French farmers, whose government has objected to some crucial elements in the talks -- were on hand to protest the Uruguay Round.

France leads the GATT negotiations in agriculture. It is only behind the US, producing a trade surplus of $10 billion in 1992. The Americans are also big cereal growers, who wish to sell their surplus.

But they feel the EC subsidy transgresses the rule of fair competition. Washington and Brussels made some progress within the Blair House accord in November 1992 and committed to a 21-per cent cut in the volume of subsidised exports.

Direct payment However, French farmers protest that GATT will take 15 per cent of their cultivated land out of production unless the community decides to introduce an American-styled direct payment system to make up the loss of farmers' income. Brussels, Paris or Bonn knows such a measure would be very expensive, especially because small-scale farmers are high-cost producers.

Farm product exporters from the South, dubbed as the Cairns Group, which consists of 14 countries as diverse as Hungary, Argentina, Malaysia, Australia and Thailand, have joined the American bandwagon to get access to European markets for finished agricultural products. The group's farm exports rose to 20.3 per cent of their total exports in 1993 from 18.7 per cent in 1991.

On the other hand, farm product importing countries fear the full or partial abolition of European export subsidies will raise import bills. However, it is expected that in the long run, these countries will be induced to increase local production. Subsidised meat exports have indeed been killing American cattle-keepers who cannot compete with the throwaway prices.

For some time, European leaders have assured their farmers about internal contingencies and reforms. What is unsaid is the new forms of protectionism they can hope to impose on imports. It is fashionable and noble nowadays to speak about the multi-functional role of agriculture.

At the same time, it is not only a question of producing food but also producing it in an environmentally sound way. For instance, Switzerland, to protect its farmers, can refuse to buy sugar from Mauritius on the ground that sugar factories pollute the atmosphere or that sugar plantation workers are underpaid. These issues are bound to be at the centre of post-Uruguay Round negotiations. Such non-tariff barriers know no limit. Recently, Swiss customs officials took four days to clear a cargo of lichees from Madagascar, enough to let the imported goods rot.

Ram Etawareea is a journalist with Infosud Third World News and Documentation Centre in Switzerland.
Related Content