Weeding out corruption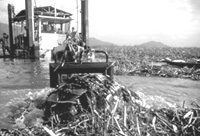 the State Vigilance Organisation ( svo ) of Jammu and Kashmir recently unearthed a multi-crore scam in the Lakes and Waterways Development Authority ( lawda ), the agency responsible for the Rs 500 crore Save Dal Lake project. The project was launched five years ago to restore the world famous Dal Lake.

Recently, 14 officers, including two executive engineers of lawda, were arrested. Though most of them have obtained bail, around 11 engineers have also been suspended. The project, with an estimated cost of Rs 500 crore, was given priority under the national lake conservation plan with the Union government agreeing to provide around Rs 297.90 crore. The state government also agreed to provide Rs 194 crore for the project.

However, there has not been much headway towards restoring the lake. Rather, the project became a money-spinner for lawda officials. A spokesperson of svo said they acted on information from "reliable sources' that money meant for the project was being siphoned off by lawda officials. This led to the inquiry.

The enquiry revealed that irregularities had been committed in the execution of the so-called integrated development related works for Dal Lake such as de-weeding/skimming, construction of northern foreshore road, electrification of office buildings, execution of mechanical works and purchases, the svo spokesperson said.

Of the huge sums of money drawn, only 20 per cent were actually spent on the restoration work. This was done by fabricating records and by manipulating fictitious muster rolls, he said. An amount of Rs 6 lakh was shown to have been spent for electrification of only six rooms. Wire mesh has been purchased in such large quantity that it can be laid around a small city and still one would be left with the stocks that could easily last for many years, said the svo spokesperson.

The vigilance organisation has formally started investigation by registering seven first information reports ( fir s) to get to the bottom of the scam, which might involve senior officials like executive engineers and assistant executive engineers.

Although no one has been fined so far, the svo spokesperson said the organisation would be ready with the chargesheet against some officials within a few weeks. According to him, the svo is now investigating the matter and collecting further evidence to present a foolproof case against the erring officers.
Related Content