Riding the wind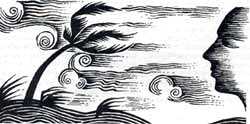 ENERGY from wind would make conventional sources of energy as obsolete "as typewriters or model 'T' Fords", according to Power Surge: Guide to the Coming Energy Revolution, a Worldwatch Institute report. Nicholas Lenssen, coauthor of the report, observes, "India could become the largest producer of wind energy." With a potential estimated at 20,000 mw, India is second only to Germany in the production of wind energy. Says Anand Narwani, senior scientific officer in the Union ministry of non -conventional energy sources (MNES), "Wind energy is non-polluting and inexpensive." With the demand for energy sky rocketing, wind energy certainly is an important alternative source in the near future.

The MNES has set up 251 wind-mapping and 88 wind-monitoring agencies and, by 1993, installed a generating capacity of 71 MW. It also provides technical and logistical support to industries, NGOs and farmers in establishing wind mills and pumps. The state-owned Indian Renewable Energy Development Agency Limited provides financial help.

Bharat Heavy Electricals Ltd in Hyderabad has developed and installed 55 KW wind turbines at Tuticorin in Tamil Nadu and at Tuna in Gujarat. It has also developed a windmill for supplying drinking water to small communities and irrigating small farms.
Prototype developed The Energy and Combustion Laboratory of the Central Power Research Iristitute in Bangalore has field tested its ptototype wind-electric generator for thinly populated areas with sufficient wind velocities. The generator will cost Rs 20,000. The Institute of Engineering & Rural Technology in Allahabad has developed a 3 KW aerogenerator for domestic, agricultural and small industrial use.

These equipments are mostly used by private entrepreneurs. But wind pumps are extremely useful in irrigating small farms. Says P G Menon, director of the Wind Society of India, "These ,pumps could not become popular as the government was more involved in developing aerogenerators, while the NGOS ignored the end users, the farmers." However, wind pumps have not been completely ignored. Small and marginal farmers get a subsidy of 50 per cent with sales tax exemption on pumps costing up to Rs 10,000.

Om Engineering Works of Kutch, Gujarat, and Auto Spares Industry of Pondicherry, manufacture wind pumps that can irrigate up to 1 ha. Farmers can approach the state energy development agencies to install these pumps. The Shri A M M Murugappa Chettiar Research Centre has developed a pump called Anila that is capable of using bi-directional winds and land and sea breezes in coastal areas. Anila, built with indigenous materials like palm trunks, casuarina poles and gunny sacks, costs a mere Rs 2,500.
Related Content