The day the sky fell in Dhedsari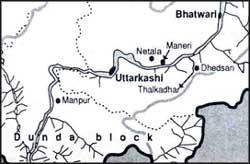 "The sky is going to fall on our heads," was the thought that ran through the mind of many of Dhedsari's residents. A cloud that should have caused rain to fall over a few days, burst like a bubble and the water poured down all at once in the evening on September 6.

The Thalkhao dhar, normally a trickle situated a few metres above the village's agricultural terraces, was transformed beyond recognition as water poured in a torrent sweeping away trees and boulders. In the wink of an eyelid, the village's lush, green terraces were washed away into the Bhagirathi.

Puranlal, reduced to using crutches by the 1991 earthquake, recalled, "If a tree and a few boulders brought down by the stream hadn't obstructed the water and diverted its flow to the fields, there would have been no hope for us."

Yet, what irks these villagers is that timely action might have averted this catastrophe. Complained Kesar Singh Rana, gram pradhan of Dhedsari, "In May this year, we warned the district administration that water flow was getting blocked and forming a jheel. But nobody paid attention to our complaint." When the cloud burst, the blockage gave way, leading to the devastating flash flood.

No one in Dhedsari can recall ever experiencing a major landslide, but their village has become unstable after the earthquake. During the monsoon, the Bhag nala, another stream on the other side of the village, gave way in a similar manner. The village has since experienced numerous slides and the approach road shows slippages in many places.

After the earthquake, Dhedsari's villagers had scattered in search of safer sites and the recent flash flood has touched off yet another migration -- this time back to the old site on the hilltop, which had been destroyed by the earthquake. An exasperated Kamal Das commented, "We have shifted our hut six times."