Cancer struck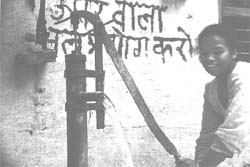 Gian kaur, 50, is a breast cancer patient. But in her village her ailment does not make her unique or get her visitors to check on her health. Almost every house in her village Giana in Bhatinda district has an ailing patient to tend to. Cancer or less fatal diseases have taken their toll on Gian's 3,500-odd population. Most of the people do not have the means to fight the diseases, too. "I have already spent Rs 10,000 and I can't spend anything more. We haven't had a good harvest in the last seven years," Gian laments.

Many people in Giana are suffering from Giana. "In the last decade, there has been more than 50-60 deaths," says a villager. Shocked out of its apathy, the government was forced to take note of the problem. It instituted an inquiry committee under the district civil surgeon to probe into the rising cancer incidence. Though the committee closed the case saying it was : case of coincidence', the villagers refuse to take the matter lightly. They believe it is water that is killing them.

"The water is so hard that even after rigorous washing it is difficult to rinse the soap," villagers say. The same water is used for washing, bathing and drinking. The water comes from a nearby waterworks. But the transportation is done though canals, not pipes, which passes through agricultural fields. The water has a very high chance of getting contaminated through agricultural runoff, among other things.

G S Preet, director, health services, Punjab, however, does not believe that "water can cause cancer". "This is a case of coincidence. We can set up a committee if the need arises in the future," he says.

"There is nothing special about Giana case. There has been no sudden spurt in cancer incidence. Cancer happens everywhere in India, it's the same for Giana also. I agree that pesticides can cause cancer, but nothing of that sort has been reported in Giana," says B R Gupta, chief medical officer, Bhatinda.

Cancer is the fourth largest killer in the Punjab, after heart attacks, malaria and respiratory disorders. With a high level of pesticides contamination in wide ranging commodities and increasing nitrate levels in water, Ludhiana also makes an ideal case study for health effects of chemical use. "In Ludhiana, there is a severe water pollution mainly due to the polluted Buddha Nullah and the numerous dyeing and nickel-plating industries," says A Mitra, a physician based in Ludhiana. The water from Buddha Nullah is used for agricultural purposes.

"In the last five years, in Ludhiana, cases of allergy, chest pain, breathlessness, skin problems, gastrointestinal problems have risen by 20-25 per cent," says Karmvir Goel, medical specialist, Ludhiana Civil Hospital. Gagandeep Singh, an orthopedic surgeon with the Civil Hospital also points out a 25-30 per cent rise in arthritic cases. He concedes that this rise could be due to pollution.

Sharing a similar view is Y K Marakan, senior medical officer at the Civil Hospital. "We are getting many more cancer cases and incidence of kidney failure is also on rise by 10-20 per cent. Previously, dialysis used to cure, but now only kidney transplant works. As a society we will have to take stock of the situation. Eating urea (through fertiliser contamination) is definitely going to harm the body," he cautions. Meanwhile, Rajesh Vashista, senior consultant, department of radiology at Oswal Cancer Hospital, Ludhiana, says the rise in breast cancer cases in Ludhiana alone is 15-20 per cent over the last few years. "This could well be due to pesticides," he says tentatively.

The scenario of cardiovascular cases is no different. "There is definitely a rise in cardiovascular diseases. But what is of concern is that many youngsters between the age 25 and 35 are suffering from heart diseases," informs R Calton, reader in cardiology at Christian Medical College (CMC), Ludhiana.

R Daniel, professor emeritus, department of ophthalmology, CMC, feels even the number of cases are an underestimate. "People who are mostly exposed to pollution are middle and lower class. They take it (suffering) as destiny. Only those who can afford treatment come.So whatever figures we have is also an underestimate,"he says.The Post Graduate Institute of Medical Education and Research, Chandigarh, records show a significant rise in certain diseases. For instance, there were no cases of Non-Hodgkin's Lymphoma registered in 1985, but by 1997, 141 cases had been registered. There has also been a 10-fold rise in rheumatoid arthritis and 12-fold rise in the number of patients suffering from hypertension.

All this do not augur well for the people of Punjab. It is difficult to link the diseases with the rising use of pesticides because epidemiological data is totally wanting.
Related Content