Protein rich algae fatten kids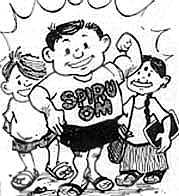 CREEPY, CRAWLY strands are not looked upon with gusto by children, however hungry. And, it took loads of icing sugar to make a test food supplement palatable to about 5,000 primary schoolchildren. They were fed high-protein spirulina algae as part of the noon meal in a programme evolved by the Murugappa Chettiar Research Centre (MCRC), the company that developed the technology for growing and extracting the algae and is marketing it now through a subsidiary.

Using a Rs 13-lakh grant from the Department of Biotechnology, the feeding programme began last September in coordination with the district integrated child development scheme (ICDS) in the Thirumayam, Ponnamaravathi and Arimalam blocks. A daily dose of 1.5 gm of sugared spirulina algae, named Spiru-om by MCRC, was fed to the children, who gathered at 92 preselected ICDS centres. Explained MCRC technologist Valiammai Subramaniam, "Our project target was restricted to 5,000 children (aged between 2 and 5), who were monitored by medical teams."

Medical monitoring over the past year shows encouraging results. Subramaniam said the spirulina-fed children's average weight gain is 1.5 kg and there has been noticeable resistance among them to dysentery, cold and fever and a reduction in the incidence of conjunctivitis and mouth ulcers. Subramaniam estimated the cost of one feeding of Spiru-om per child -- determined by tests at 1.5 gm -- was between 45 and 48 paise.

MCRC assistant director Joseph Thomas explained his firm had been toying since the 1970s with the idea of using spirulina as a human feed supplement. About 65 per cent of spirulina, a blue-green, single-celled alga, consists of protein and other important nutrients such as vitamin B-12. In 1984, a commercial plant with 7.5 tonne annual production capacity was set up in Pudukottai.

Another offshoot of the spirulina technology is through a tie-up with a voluntary organisation called Nutrition on Wheels (NOW) that has resulted in generating some income for fisherfolk in Tamil Nadu through backyard cultivation of the alga. Said NOW's Saraswathy Gopalakrishnan, "With a total investment of Rs 5,000 per family, which we provide, a fisherwoman could sell 1.5 kg of dry spirulina a month and earn Rs 550."