Government homilies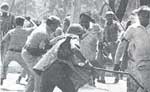 Day before the gigantic Lef-organised rally on April 5, and the only slightly less large demo by the Right with BJP to protest the Indian government's endorsement of the Dunkel draft text for GATT, the Union cabinet decided to use Doordarshan for some intensive propagandising in favour of Dunkel. Viewers slowly get used to the frequent pips in their serial diets: "The Dunkel draft will not lead to a hike in the prices of seeds, fertilisers and other commodities." "It will cause no reduction in subsidies." And even, "Indians will not lose their right on trees like neem."

Not that the homilies hampered the raucous demo one bit. Never had the Delhi police had to lob so many teargas shells to quell a protest.

While both the BJP and the CPM-let Left coalition chose controversies related to the issue of IPRs and its implications for agriculture, the Doordarchan message focused exclusively on the benefit to Indian industry and farmers. A joint secretary of the Union Information and broadcasting minister revealed. "The Union agriculture ministry could not make up its mind about what the message on the IPR front was to be."

Sources in the agriculture ministry confirm this. They reveal that opposition to the ministry's proposed legislation on sul generis protection has been so intense within the ruling Congress party, despite its seemingly united public face, that the ministry is considering considerable revision to the draft legislation on its own initiative.
Related Content