Fishing for trouble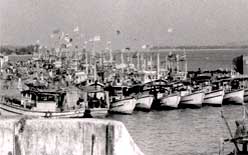 traditional fisherfolk and their long-time rivals, the small mechanised boat operators, have got together to start yet another round of protests against fishing by giant joint venture (jv) vessels in India's exclusive economic zone (eez). For the first time ever, fisherfolk have plans to resort to commercial shipping blockade. The mood is extremely belligerent.

As the six-month deadline for implementing the Murari committee recommendations to curb deep sea fishing (dsf) operations lapsed, the National Fishworker's Federation (nff) leader Thomas Kocherry started a hunger strike in Bombay on August 7, to be followed by blockading of fishing harbours and support dharnas (sit-in demonstrations) in various towns. The commercial blockade will follow in the last phase of action.

Several central trade unions and other movements like the Narmada Bachao Andolan (nba) have declared their support. Even a section of social and fisheries scientists argue that export-oriented jv projects, which are highly subsidised, may be detrimental to the environment as well as the Indian fishing industry. In 1991, the ministry of food processing industries (m o fpi) started issuing dsf licences to giant jv vessels, arguing that deep sea fishing largely remains unexploited.

However, fish yield analysis shows that actually there is little catch in the deep seas beyond a depth of 200 m. Also, fishing in deep seas is an energy-intensive, low-return operation. So, often, larger vessels slipstream into shallower waters. Also, many small vessels operate successfully in places like Tadri (Karnataka), Goa and Tutur (Tamil Nadu), beyond the territorial waters and up to depths of 150-m. Says Bernard D'Souza, a spokesperson for small mechanised boat operators in Goa, "We too can fish in the deep seas; help us get navigational and safety equipment, instead of calling in foreign giants."

The report of the ministry-appointed review committee headed by former m o fpi secretary from the P Murari, had recommended that no new licenses be issued for dsf, and no renewal of existing licenses be allowed. Also, the committee earmarked an area exclusive for them upto 150-m depthline or 50 nautical miles (close to 73 km) from the shore. Where the 150-m depthline extends beyond 50 m from the shoreline, the committee has extended the area earmarked for smaller craft upto 100 nautical miles (around 146 km).

A wide cross-section of fisheries and social scientists argue, supporting Murari's contentions, that careless exploitation may lead to depletion, and, thus, the need to think of alternatives. According to John Kurien, associate fellow, Centre for Development Studies, Thiruvanantapuram, many of the 22,000 foreign vessels lying idle are waiting in the wings to enter Indian waters. "The problem could be acute in the Indian waters as tropical seas have highly dynamic ecosystems - large number of species and complex links between them," Kurien says.

According to scientists at the Central Institute of Fisheries Technology (cift), Cochin, the future of fishing is in targeting the diverse species which remain unexploited. M Devaraj, director of the Central Marine Fisheries Research Institute (cmfri), Cochin, says that the losses suffered in large-scale deep sea operations point at a bleak future. Still, there is ample scope for deep sea fishing, especially if we focus at the outer continental shelf area (upto 200-m depth). In this region, he says, Indian vessels of less than 20-m length have proven their ability. Thus, "there is no justification for allowing joint venture or charter vessels', he says.
Related Content