No easy smokes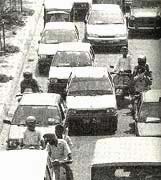 DRIVERS of polluting vehicles will now find it harder to evade the long arm of the law. Remote sensing devices being developed in the US will have the capability of latching on to the exhaust plume of a polluting car or truck which exceeds the regulatory limits.

Remote sensing devices were developed at the University of Denver at Colorado in the late '80s and subsequently improved at the General Motors R&D centre at Warren, Michigan. These devices consist of sensors that are sensitive to the gases released from vehicle exhausts. An infra-red beam positioned some 25 cm above the road is continuously directed across a single lane of traffic to a detector capable of measuring concentrations of various exhaust gases, which contain hydrocarbons, carbon monoxide, nitrogen oxides and carbon dioxide, all of which are toxic in high concentrations.

As a vehicle crosses the path of the beam, both the sensors and a video camera unit are activated. While the sensors analyse the contents of the exhaust and match them against stipulated standards, the video camera locks on to the licence plate of the vehicle.

Not only will these remote sensing devices make it easier to catch offenders, but, say researchers Steven Cadle and Robert Stephens from General Motors, they will also enable policy makers to set emission standards that are relevant under real conditions.

In the US, for example, the exhaust mobile source inventory -- which is essentially the product of the emission rates of all in-use vehicles and the total distance travelled by them -- is based on emission rates determined in the laboratory. Doing this is expensive and time-consuming, and according to experts, they fail to account for emissions from malfunctioning and illegally-altered vehicles. These tampered vehicles run on high air-to-fuel ratios and are mainly responsible for causing pollution. The new devices reveal that less than less than 10 per cent of the in-use vehicles contribute 50 per cent or more of the total carbon monoxide and hydrocarbon emissions.

Meanwhile, several groups are working on improving the remore sensing devices, and it is expected that a device with an automatic licence plate reader is likely to be introduced soon. Other researchers are working on the packaging of the entire system, making it less obvious to errant motorists, and on a system that can work unattended.
Related Content