Cervical cancer on the rise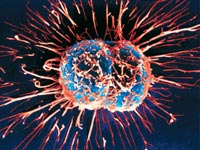 The incidence of cervical cancer is on the rise in India. It afflicts as many as 25 women per 0.1 million, making it the commonest cancer in the country.

The disease, which affects the female genital tract, is both preventable and curable if detected early. But almost 70 per cent of the patients come to the clinics in the advanced stage when treatment is often unsuccessful.

The importance of screening is illustrated by China's regimented method. Women who do not attend screenings periodically are jailed. But the strict measures have paid off and the rate of cervical cancer in Chinese women has slumped from 50 per 0.1 million about 50 years ago to less than 10 today. In India, the Pap smear test barely costs Rs 25 and is free for the poor, but there are few takers due to lack of knowledge.

Research indicates that cervical cancer is caused by the human papilloma virus, which is mainly transmitted sexually. The virus also spreads due to unhygienic gynaecology. Frequent pregnancies, too, can cause the disease.
Related Content