Facelift for Taj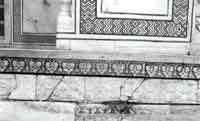 the Rhone-Poulenc Foundation of France, in a collaboration with unesco and the Archaeological Survey of India ( asi ), has launched an ambitious restoration programme for the majestic Taj Mahal. The us $236,000 three-year programme will include extensive research on the conservation of materials used originally in the construction of the Taj and other historic monuments at Agra.

A C Grover, director, planning, asi , said that a conservation laboratory, funded and equipped by the Rhone-Poulenc Foundation, will be set up inside Agra Fort to assist in the restoration work. He said that although Taj is in excellent condition, the main threat is from pollution. Grover, lauding the efforts of asi , pointed out that the Mathura refineries have switched over from fuel to a low-sulphur fuel.

The Taj has been included in the list of World Heritage monuments since 1983. Chris Manhart of unesco, however, pointed out that the monument has been seriously damaged by climatic conditions and the monsoon rains which have led to water infiltration and erosion of the white marble exterior. He explained that constant humidity has also led to the oxidation of the iron dowels and clamps holding together the marble cladding, which, now, is badly cracked and chipped.

Nigel Toft of Rhone-Poulenc said: "We'll be spending three years for studying the material used in the Taj and other buildings.'

But Amita Baig, director, conservation, Indian National Trust for Art and Cultural Heritage ( intach ), said: "It is a good move as long as the research and development is not done on the Taj.' The experimentation, she said, should be conducted on other monuments and then applied on the Taj.

Rhone-Poulenc is a multinational pharmaceutical company specialising in plant, human and animal health. The foundation, established in 1995, contributes financial and technological assistance for research programmes which focus on the protection of the worlds natural and cultural heritage.
Related Content