Extended lease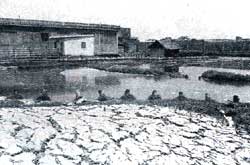 Calcutta's wetlands (bheris) have got a new lease of life. The Calcutta High Court has ordered the West Bengal government to stop reclaiming the wetlands. The court also directed the Calcutta Municipal Corporation to use the Town and Country Planning Act's provisions to prevent any private organisation from encroaching on these wetlands, which serve as natural sewage treatment plants for Calcutta.

Delivering the order, justice U C Banerjee noted that the state cannot change the nature of the wetlands, for any reason, from agricultural to residential or commercial and nor can it allow any private party to do so.

Half of the 8,000 ha of the wetlands, which also provide thousands of fisherfolk a source of livelihood, has already been reclaimed. The West Bengal government and the Calcutta Municipal Corporation have plans to make a World Trade Centre on another 75 ha in the Chinta Singh bheri, a part of which has already been reclaimed. While the court order will allow this project to go ahead, it will save any more of the wetlands from being reclaimed for other projects.
Related Content