Bird lovers in the dock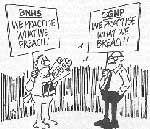 The Bombay Natural History Society (BNHS) has been charged with disturbing the flora and fauna in the Sanjay Gandhi National Park in Goregaon near the Film City for a proposed conservation education project conceived by the late ornithologist Salim Ali.

Park officials refused to grant a no-objection certificate for the proposed Salim Ali Conservation Education Centre, sponsored by the ministry of environment and forests and constructed by BNHS in collaboration with the ***UK. Officials allege that the construction would entail chopping trees adjacent to the park's core area. The Bombay suburban district collector, Uttam Khobragade, has ordered an inquiry into the issue and also sent a memorandum to BNHS for not submitting the proposed building plans on time.

BNHS, which has long been campaigning for the park to be declared a protected area, is naturally piqued. Claims a BNHS official, "We are the people who preach and we will do nothing anti-nature or anti-conservation."