Tribals in trouble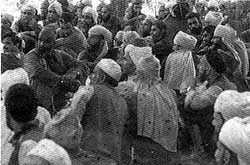 WHEN GUJJAR Zahur Hussain got into a trifling argument with a forestry official who was on his way to a temple in the Rajaji National Park, little did he expect what followed. That evening the official -- a deputy director of the park -- came to Hussain's hut accompanied by forest guards, thrashed Hussain and his pregnant wife and set fire to their hut. The park deputy director also registered a false case of poaching against Hussain and fined him the entire sum of his savings -- Rs 5,900.

Tension is rife between the nomadic Gujjars and the forest administration over the tribe's right to winter in the park -- a right the Gujjars have enjoyed for the last 300 years (Down To Earth, November 30). On February 16, three weeks after Hussain was thrashed, the Gujjar panchayat decided any more attacks on members of their tribe would be met with violence and a reward of Rs 100 was announced for such retaliation.

In a letter to the Union environment and forests ministry, the Gujjar panchayat asked to be involved in the management of the national park on a no-salary basis. Their letter notes that far from fulfilling the purpose for which the Rajaji National Park was created, there has been a decrease in both animals and trees. The Gujjars contend if they are involved in the conservation project, it would not only reverse this trend, but also enable the government to save money now spent on forest maintenance and wages for forest officials.
Related Content