Shoot borer devours Rajasthan`s khejri trees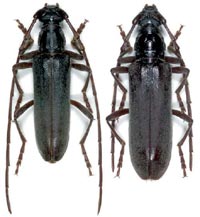 khejri (Prosopis cineraria) trees are well equipped to withstand the parched climate of Rajasthan. But they are becoming easy prey for hungry beetles. A recent survey by the Arid Forest Research Institute (afri), Jodhpur, reveals that insect attacks have taken a heavy toll on khejri trees in the state. The culprit has been identified as a nearly-four-centimetre-long yellowish brown insect, the shoot borer (Derolus discicollis).

At present around 60-70 per cent trees are afflicted by the disease in Nagaur district of Rajasthan, according to afri. Other affected areas include Churu, Sikar and Jhunjhunu. Over the past few years, the number of khejri trees in some villages has fallen from 50 to five.

Though the alarming trend came to light in 1999, not much has been done to improve the situation. Even afri, which conducted studies on the prevalence of the disease, has not yet been able to assess the extent of damage. Its team, however, feels that excessive cutting of branches, especially during drought, makes the tree vulnerable to insects. The stump of the tree is the perfect place for the insect to lay its eggs. The larvae of the insect destroy the tissue of the trees by feeding on the sap and heartwood. "Each year the number of new leaves lessen and finally the tree dies,' reveals K K Chaudhuri, director, afri. A tree can be entirely destroyed in two to three years.

Derolus discicollis was first identified in Karachi (Pakistan) in 1906. While the insect's lifecycle has been studied, its interaction with khejri was not considered. "The problem of khejri mortality is more pronounced now, due to the continuing drought in the area,' points out M P Singh, a scientist in the Central Arid Zone Research Institute, Jodhpur.

Khejri is the lifeline of the desert. It is an alternative source of income for many people in Rajasthan during the dry season. Besides being the staple food of the livestock, khejri is also used as a fuelwood. A decrease in its numbers is bound to have an adverse effect on the region's economy. "Due to its several advantages, it was nominated as one of the 10 national trees of India,' says S M Mohnot, director, School of Desert Sciences, a Jodhpur-based non-governmental organisation.

afri is, meanwhile, carrying out further studies to estimate the severity of the problem.