Freeze on special economic zones lifted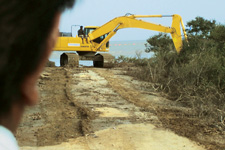 the empowered group of ministers (EGoM) lifted the freeze on special economic zones (sezs) on April 5, 2007, with some policy dilutions.

It fixed the upper limit for sezs at 5,000 hectares. States will decide on the lower limits. The minimum processing area for multi-product and sector-specific sezs will be 50 per cent. These will not be retrospective except for four sezs, including Reliance Industries' sezs in Haryana and Maharashtra.

The EGoM has asked the Union ministry of rural development to prepare a new comprehensive land acquisition act since state governments have been stripped of the power to acquire land. Developers will have to deal directly with landowners.Rehabilitation for families displaced will include a job for at least one person in the sez concerned.

This provision has drawn criticism. Rehabilitation and employment will ultimately be subject to stipulations by the developers concerning qualifications and availability of jobs, says Simpreet Singh of the National Alliance of People's Movement, a coalition of ngos. Singh also said since the issue was pending with a parliamentary committee, the EGoM should have held its horses.

EGoM did not agree to cap the number of sezs and restrict tax sops. These sops, cpi-m said, would cost the government huge revenues. The Confederation of Indian Industry, however, welcomed the decision.