All in the blood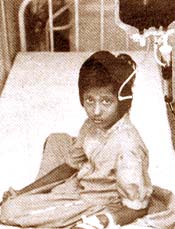 In the wake of the frightening revelation that infected blood was supplied to 10 city hospitals in Bombay between February 1992 and July 1994, by the Indian Red Cross Society (IRCS), Bombay -a leading blood bank of the country -the question today is whether blood banks are any longer the safe repositories of the life-saving plasma. The victims were 8 thalassaemic children who received hepatitis-B and HIV-infected blood from the IRCS.

The Drug Controller of India ordered a series of "surprise checks" in Bombay blood banks in mid-July following this incident. The faulty blood monitoring indicates it is a sure route for the entry of the deadly AIDS virus and other blood related diseases.

Although Rs S crore was allocated for blood banking management in the 1992-93 budget which increased to Rs 9.36 and Rs 9.69 crores respectively in subsequent 2 years, no allocation for blood banks was made in the '94-95 budget. Blood banking facilities in rural and district levels are worse off. Even in Calcutta, of the 56 state blood banks, only 13 strictly screen blood samples before releasing them for transfusion.

Forty per cent of blood comes from professional donors, state the Union health ministry. Voluntary donation amounts to only 30 per cent. Of the 1,108 AIDS cases detected till June 1, 1995, 123 had reportedly acquired AIDS through tainted blood transfusion.
Related Content