The National Green Tribunal Act, 2010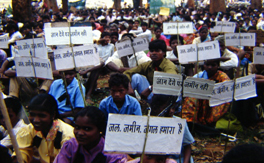 The National Green Tribunal Act 2010 approved by the President of India on June 2, 2010. It provides for establishment of National Green Tribunal- a special fast-track court for speedy disposal of environment-related civil cases.
An Act to provide for the establishment of a National Green Tribunal for the effective and expeditious disposal of cases relating to environmental protection and conservation of forests and other natural resources including enforcement of any legal right relating to environment and giving relief and compensation for damages to persons and property and for matters connected therewith or incidental thereto.
See Also
Bill: National Green Tribunal Bill, 2009 http://www.indiaenvironmentportal.org.in/node/282512
Report: Proposed amendments to the National Green Tribunal Bill 2009
http://www.indiaenvironmentportal.org.in/node/296384
Report: 203rd report on NGT bill, 2009 by Parliamentary standing committee on S & T
http://www.indiaenvironmentportal.org.in/node/300742
Act: National Environment Appellate Authority act, 1997 http://envfor.nic.in/legis/others/envapp97.html
Act: Environment (Protection) Act, 1986
http://www.envfor.nic.in/legis/env/env1.html
Feature: Environment protection act reduced to a travesty of their mandate
http://www.indiaenvironmentportal.org.in/node/883
Related Content
Order of the National Green Tribunal regarding waste management in Gaur City-2, Greater Noida West, Uttar Pradesh, 03/08/2023
Goa State Pollution Control Board report on the status of waste management, sanitation, afforestation, mining and others, 02/03/2023
Order of the National Green Tribunal regarding illegal dumping of construction waste in the process of constructing a road, Shimla, Himachal Pradesh, 31/10/2022
Order of the National Green Tribunal regarding construction of mobile towers in green belts near residential areas, Greater Noida, 05/08/2022