Tick with a bite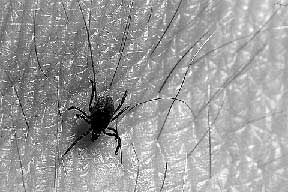 researchers in Sweden have linked the increase in the incidence of tick-borne encephalitis in Stockholm County to the global warming. The viral pathogen lives inside an insect, Ixodes ricinus and is transmitted to human beings when the insect bites them. The disease is characterised by symptoms such as high body temperature followed by tremors and dizziness due to inflammation of the brain.

The life span of a tick can be more than three years depending on climatic conditions, and includes three blood-sucking stages: larvae, nymphs and adults. However, nymphs are the major contributors to infection in human beings. The larvae, which give rise to nymphs hibernate in cold temperature but once the temperature rises to 8-10 degree Celsius, they change into nymphs. The disease is more prevalent when spring and autumn seasons are extended. Mild winters can increase both the population of the tick and the percentage of the insect that bears the virus. Ticks may survive freezing temperatures (below -7 degree Celsius) and become active when night temperatures rise above 4-5 degree Celsius.

Researchers Elisabet Lindgren, department of systems ecology, Stockholm University and Rolf Gustafson, department of immunology, microbiology, pathology and infectious diseases, Karolinska Institute at Huddinge University Hospital in Stockholm have correlated the increase in the number of cases of encephalitis to the climate of the area. As the area is endemic to this disease, all the cases of encephalitis are serologically tested and registered. The researchers collected the data of daily minimum temperature and daily centimetre snow depth data for the area from the Swedish Meteorological and Hydrological Institute and the number of cases of encephalitis caused by ticks from Swedish Institute of infectious diseases control. The data was collected for a period of around 30 years. They found that the increase in the incidence of the disease could be related to change towards milder winters and early arrival of spring during mid-1980s. The highest incidence of the disease was reported in 1994 when there was a three-fold increase in the number of cases. The researchers feel that this is because the year was preceded by five years of very mild winters and spring had started earlier for seven consecutive years.

Some of the non-climatic factors that contribute to the spread of the disease is the increase in the number of summer cottages in the area which increase the contact between the host and the parasite. Even roe deers, the hosts for the ticks, increase during this period due to decrease in hunting. On the other hand, availability of a vaccine and increased awareness regarding the disease wherein people can take preventive measures have led to decrease in the number of cases.
Related Content