National Mission for a Green India: draft submitted to Prime Minister's Council on Climate Change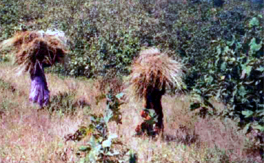 The draft of Green India Mission submitted to PM's Council on Climate Change aims at addressing climate change by enhancing carbon sinks in sustainably managed forests, adaptation of vulnerable ecosystems and adaptation of forest-dependant communities.
This Mission document envisages an approach that is innovative in several ways: First, it proposes a fundamental shift in mindset from our traditional focus of merely increasing the quantity of our forest cover, towards increasing the quality of our forest cover and improving provision of ecosystem services. Second, the Mission proposes to take a holistic view of greening, not merely focus on plantations to meet carbon sequestration targets. There is a clear focus on enhancing biodiversity, restoring ecosystems and habitat diversity. Third, there is a deliberate and major focus on autonomy and decentralization. The Mission will be implemented through an autonomous organisational structure reducing redtape and rigidity, while ensuring accountability. Local communities will be at the heart of implementation, with the Gram Sabha as the overarching institution overseeing Mission implementation at the village-level.
See Also
Report: National action plan on climate change
http://www.indiaenvironmentportal.org.in/node/306638
Report: India's forest and tree cover: contribution as a carbon sink
http://www.indiaenvironmentportal.org.in/node/283038
Report: India's submissions to the UNFCCC
http://www.indiaenvironmentportal.org.in/node/282489
Feature: Greening India Mission
http://www.indiaenvironmentportal.org.in/node/314940
Feature: Rebuilding rural India
http://www.indiaenvironmentportal.org.in/node/297984
Feature: Developing national carbon accounting and monitoring system for India's forest - An ecosystem model approach
http://www.indiaenvironmentportal.org.in/node/300102
Related Content