Mystery disease hits Bastar`s fishtail palm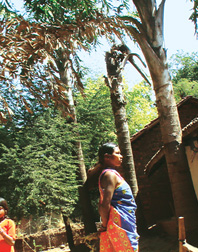 the Chhattisgarh government recently announced it would market a popular local alchoholic beverage made from a palm species unaware that a mysterious disease has slowly been killing the species over the past five years.

The state's fishtail palm, popularly known as sulphi, has been drying up in state's Naxal-affected Bastar district. Sulphi is used to make the famous Bastar Beer and is popular with tribal communities and also with tourists. It is the main source of livelihood for tribals and also contributes significantly to their socio-economic life. Sulphi trees are also very popular in the daily village markets.

"Many Sulphi trees have dried up in the last three years and ruined our economy. We are more dependent upon sulphi rather than farming and forest produce,' says Sukhu, a farmer from Gadhbengal village. Sukalu of Nagarnar village stresses its economic importance: "People earn about Rs 12,000-15,000 yearly from them."

The mystery of sulphi drying has puzzled everybody. When trees initially started drying, agricultural scientists tried to treat the plant but in vain. Even the forest department could not help. "Tribals generally plant sulphi around their houses and in farms. Thus, it is scarcely found in forests, which is why the forest department has not studied the disease,' says Satish Jha, conservator of forest of Jagdalpur in Bastar. "Sulphi trees are generally found in damp areas. Deforestation has affected the temperature in the area. This might be the cause of drying of sulfi trees,' says Sharad Verma, a journalist who has been studying sulphi trees for some years.

A scientist from Jagdalpur agriculture university said that a proposal had been made to the government to look into the matter two years back but so far the government has taken no action. Meanwhile, government officials are clueless. "We have no information regarding drying of sulphi. We will look into the matter,' Nanki Ram Kanwar, state minister for agriculture told Down To Earth.