The energy report: 100% renewable energy by 2050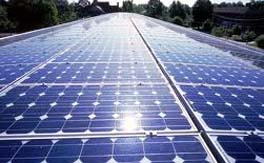 This new study produced through a collaboration between World Wide Fund for Nature (WWF) and Ecofys outlines how all the world's energy can be provided cleanly, renewably and economically by 2050.
All of the world's energy needs could be provided cleanly, renewably and economically by 2050, according to a new study by WWF. The Energy Report breaks new ground with its global scope and its consideration of total energy needs including transport, and making adequate and safe energy available to all. The Energy Report shows that in four decades we can have a world of vibrant economies and societies powered entirely by clean, cheap and renewable energy and with a vastly improved quality of life. The report shows that the aim of meeting most energy needs from renewable sources will be a challenge, especially for countries like India. The report shows that by 2050, power, transport, industrial and domestic energy needs could be met with only isolated residual uses of fossil and nuclear fuels – vastly reducing anxieties over energy security, pollution and not least, catastrophic climate change. Energy efficiency in buildings, vehicles and industry would be a key ingredient, along with an increase in the energy needs met through electric power, renewably generated and supplied through smart grids.
Related Content