Blurred vision in a grey area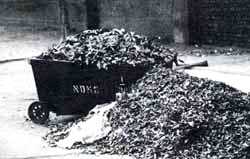 WITH the May 31, 1994 deadline to conform to the 74th Constitution Amendment Act drawing near, state governments have very little progress to report. The Act, which originated from the concept of the Nagar Palika bill, aims at limiting the hegemony of state governments over local bodies and ending arbitrary supersessions of municipalities.

Barring Gujarat and the National Capital Territory of Delhi, which have passed laws, the states are still "considering" enacting legislation or amending existing acts. A status paper prepared by the ministry of urban development, the nodal agency monitoring progress on the bill, clearly delineates that the states have only assurances, no actions (See box).

Congress MP Mani Shankar Aiyar, the prime mover of the original bill when Rajiv Gandhi was prime minister, describes the attitude of the states as "lackadaisical" or "disquieting" and attributes the inaction to a greater interest in the Panchayati Raj Act.

However, officials like K Dharmarajan, joint secretary in the urban development ministry, are optimistic that the states will meet the deadline. As of now, however, state bureaucracies appear far too unwilling to forgo their unfettered control over municipalities. The Act states clearly that no municipality can be dissolved without being provided reasonable opportunity to be heard, and in case of dissolution, must be reconstituted within 6 months.

Even the Gujarat and Delhi laws have come in for some flak. Gangadhar Jha of the National Institute of Urban Affairs (NIUA) in Delhi has said that the amendments in Gujarat are "at most a patchwork rather than an altogether new enactment". He said that specific-purpose authorities like slum clearance and improvement boards, water authorities and urban development authorities still thrive, and municipal functions are as fragmented as before.

Rajya Sabha MP and former chief executive councillor of Delhi Vijay Kumar Malhotra says that there is a problem concerning rural localities in the Capital. "Local bodies are only for urban areas, but Delhi encompasses significant rural areas, which need to be developed by the municipal corporation. So, the Delhi Municipal Corporation (Amendment) Act will need additional amendments to make such an arrangement possible."

Om Prakash Mathur of the National Institute of Public Finance and Policy (NIPFP) in Delhi says that the states have laid down the broad guidelines and now it is only a matter of working out the details. But, such details are proving to be stumbling blocks.

Functional questions
A "grey area" of particular relevance is the 12th Schedule, an annexe to the Act on municipal functions. Although it lists 18 possible municipal duties, they are only suggestive in nature. These include unconventional functions like urban forestry, environment protection and the promotion of ecological aspects, safeguarding the interests of the weaker sections of society, social and economic development and urban poverty alleviation. The annexe has few details on powers relating to functions, finances and institutions, virtually leaving their interpretation open to state governments.

Keeping in mind the stepmotherly attitude of the governments, urban planning experts like NIUA director Dinesh Mehta and Bijayanand Misra, head of the urban planning department of Delhi"s School of Planning and Architecture, feel that such discretionary powers will be misused.

An NIUA workshop in Shimla last year strongly backed a recommendation that economic and social development, slum improvement and alleviation of urban poverty be made obligatory for all municipalities.

Dharmarajan also feels that municipalities are best suited to take adequate action on such matters. In his paper, he said, "These are not functions that are normally considered to be municipal functions. Over a period of time, unfortunately, state governments have felt that the core municipal functions are beyond the capacity of local governments and should be implemented through specialised agencies. Slum improvement programmes are entrusted to slum boards. In order to move away from this and focus these functions at the local level, the Nagar Palika Act has redefined the role of local government."

In his critique, Jha said, "What is required is a local list of functions in the Constitution of India in unambiguous terms; the 12th Schedule ought to have been made mandatory, not discretionary." But to Misra, the issue is not so much whether these functions should be made mandatory as whether priority areas will be given resources.

Money matters
Jha also raises the issue of financial constraints: "It is not that these are unimportant functions. Performance of such functions requires a much stronger financial capability and human resources, which municipal bodies lack miserably. With the existing funds, they are unable to discharge even basic functions."

Jha describes the setting up of finance commissions as one of the most important aspects of the Act. The commissions will recommend how tax revenue should be distributed between state governments, municipalities and local bodies. They will also suggest fiscal improvements for municipalities and fix the determination for taxes and grants-in-aid.

Misra says that the commissions, with their statutory status, autonomy and authority, are "much better than the previous formula system, which was never followed".

However, Jha feels that the sources of local revenue should have been clearly specified. He cites various instances of state governments usurping local revenue: profession tax has been taken over by the state governments in Karnataka, Haryana, Madhya Pradesh, Meghalaya, Nagaland, Tripura and West Bengal; entry tax is utilised by the Andhra Pradesh state government and property tax has been taken over by the Madhya Pradesh government.

Mathur says one way for local bodies to improve their financial status would be to streamline non-tax components like service charges on water, electricity and street lighting, which have remained stagnant. "In this way," he says, "the economies of the municipalities will be more buoyant and vibrant. The economic growth of urban areas is not reflected in municipal budgets."

K K Pandey, senior fellow in the Human Settlement Management Institute in the Capital, suggests partnerships between municipalities and private enterprises, like the private Redline bus service operating with the Delhi Transport Corporation and the privatisation of water delivery to slum clusters in Madras. He says it is estimated that 22 per cent of urban expenditure is transferred from state governments and 78 per cent is self-generated. This, he says, is despite most taxes like stamp duty, sales tax and entry tax having a strong urban bias and filling the state"s coffers. This anomaly will be removed once the state finance commissions come into existence, he feels.

There are also problems regarding the definitions of local bodies. They have been classified into nagar panchayats for transitional areas (an area transforming from rural to urban), municipal councils for small urban areas and municipal corporations for large urban centres. However, it is not clear what constitutes a transitional area. And decisions pertaining to it have been left to the state governments.

Jha has pointed out that the 65th Amendment Bill, which could not be passed by Parliament, had specified that nagar panchayats would have a population of between 10,000 and 20,000, municipal councils between 20,000 and 300,000 and municipal corporations 300,000 and above. In addition, although notified area committees and the town area committees will cease to exist, the future of cantonment areas has been left unexplored.

More chaos?
The fate of urban development authorities like the Delhi Development Authority and the Bombay Metropolitan Development Authority is left uncertain. Although status quo has been maintained in the Delhi legislation, Misra feels that the multiplicity of such agencies, which basically perform a role assigned in the 12th Schedule, would lead to chaos.

Says Jit Kumar Gupta, divisional town planner in Punjab, "The scenario emerging in different states in the context of the 74th amendment is to make laws that are vague and create more chaos by vesting similar powers in a number of agencies with overlapping functions and areas of jurisdiction. Such an ad hoc approach would defeat the very purpose of the historic amendment and cities would continue to suffer and the quality of life would continue to deteriorate in urban areas."

Jha stresses this point as well. "The setting up of metropolitan planning committees," he says, "will create further confusion about the role of the myriad urban development authorities." Gupta feels that local bodies, if equipped properly, would be in a better position to control city development. Misra also feels that development authorities should be abolished and their functions transferred to local bodies.

The representation of MPs and legislative assembly members in local bodies has caused heartburn. Dharmarajan agrees there is unhappiness about this because local body representatives feel that MPs and MLAs would have different compulsions.

R M Kapoor, chief of urban studies of the Times Research Foundation (TRF), P B Anand, research fellow, TRF, and P K Ghosh, former secretary, West Bengal legislative assembly, point out in a paper that granting voting rights to ex-officio members could lead to political difficulties like a minority party in a council attaining a majority.

Again, says Jha, in the political context, the Act has not cared to install political executives in the municipal authorities, especially in the municipal corporations, which are constituted in large cities and need to take political decisions for resolving local problems.

Although the essence of the Act -- providing power to the people -- is considered laudatory by even its harshest critics, shortcomings, specially the "excess" of discretionary powers for state governments, will be a telling factor.

Dharmarajan feels that in the long term, the spirit of the Act will gradually be imbibed by the states and that local bodies, with whatever powers they have, will form potent lobbies to press their case. But, as Kapoor, Anand and Ghosh conclude, "The central issue remains the extent to which state governments are ready to share political power with municipalities and to which they will agree to financial devolutions, based not on political considerations but on sound economic and financial principles. Therein lies the real test."