Foresters, villagers vie for land in Bengal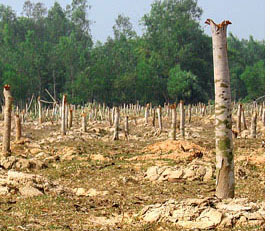 tribal villagers in West Bengal's West Midnapore district chopped down around 6,600 young eucalyptus trees on a six-hectare state forest department plantation recently. The residents claim the land in the district's Chandra forest range is theirs and they want it back. Forest department officials rubbish the claims and are preparing to slap legal charges on the villagers.

"Our forefathers cleared and levelled the land and grew crops,' says Subhadra Naik, whose husband, Bansi Naik, has been leading the tree-felling charge (see box: Grey areas). "In 2001, officials asked for land along the fringes of our fields.
Related Content