Interim report of Justice M.B. Shah Commission of inquiry for illegal mining of iron ore and manganese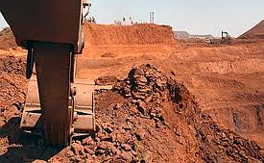 Justice MB Shah Commission of Enquiry on illegal mining of iron and manganese ores has in this first interim report suggested a ban on exports of iron and manganese ores to conserve the mineral for posterity.
The Government of India has set up Shri Justice M. B. Shah Commission of Inquiry for Illegal Mining of Iron Ore and Manganese vide Notification dated 22nd November, 2010. The Commission is submitting its first Interim Report recommending some urgent remedial measures to prevent further illegal mining, its trade, transportation and export. These measures may help in controlling to a large extent illegal mining subject to honest and effective implementation at all levels.
See Also
Bill: Draft Mines and Minerals Bill, 2011.
Report: Preferential grant of mining leases for iron ore.
In-Court: Sale of iron ore in Bellary...
Report: Mineral policy issues in the context of iron ore in India.
Report: Lokayukta report on illegal mining in Karnataka.
In-Parliament: Illegal mining in states.
Feature: Goa PAC blows the lid off mining scam.
Feature: No green nod to iron ore projects dependent on Bellary.
Related Content