Sal and siali leaves sustaining tribal Orissa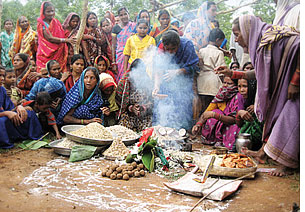 As the summer draws to a close, there is a distinct gaiety in most parts of Orissa. There is a spring in the steps of people as they go about preparing for the Jagannath Utsav. In Majhiakhand village of Nayagarh district, a group of people have been assigned the task of taking care of a basket full of earthen balls. A few months ago, the village's women had got together to knead a mixture of ant-hill clay, cow dung and cow urine into egg-shaped balls.

The dried balls will be broken open during the Snan Ucchab (the bathing festival) of the Lord Jagannath and seeds of siali (Bauhinia vahili), preserved inside them, taken out. The
| | |
| --- | --- |
| | |
| | VASUNDHARA |
women of Majhiakand might not be aware of the ecological jargon ascribed to this activity. But environmentalists say this is an organic method to preserve biodiversity. On the
Snan Puja
day the seeds are sown and prayers offered for the healthy growth of siali climbers.
The colourful ritual has a significance which extends far beyond annual festivities. Siali and sal (
Shorea robusta
) leaves are the major source of sustenance for people in the predominantly tribal districts of eastern Orissa. "Trade in these leaves has saved people in Mayurbhanj district from starvation deaths,' says Kalyan Prasad Sinha, a journalist from Baripada.
Plucking and stitching
At dawn women set out for the forests. They are there till afternoon, carefully selecting leaves that would be stitched the next day to make plates. A day's collection usually comes to 1,000-1,200 leaves, enough to make 150-200 plates. The plates are dried the next day, by which time traders' agents are at the collectors' doorsteps. Though the government has fixed a price