Marking time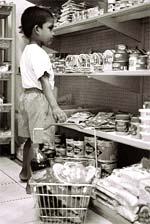 BOWING to activist pressure, Sri Lankan authorities have finally broken their silence about the mandatory labelling of genetically modified (GM) food in the island nation. Efforts are now underway to achieve a breakthrough in the matter though the powers that be are still non-committal.

On September 29, S Nagiah of the food control administrative unit in Sri Lanka's ministry of health disclosed that the topic was listed for discussion during the ensuing meeting of the Food Advisory Committee (FAC). The panel comprises health sector experts drawn from universities and other scientific bodies. "We need to talk about it and find ways to enlighten (health minister P Dayaratne) on the labelling issue," he stated. Nagiah last broached the subject in November 2002 when he told a national newspaper that tagging imported GM foods would soon be made compulsory.

It was Lankan non-governmental organisation (NGO) Environmental Foundation Limited (EFL) which revived the GM debate. Significantly, the government has flip-flopped on transgenic products more than once in the past.

Consequently, activists like Piyal Parakrama of the Centre for Environmental and Nature Studies (CENT) exude pessimism. They feel that the government is unlikely to give the green light to labelling, let alone enforce a ban on GM foods as promised by the previous regime over two years ago. "In any case, labelling is not a solution to the problem," says Parakrama.

The FAC had prohibited the import of GM foods in May 2001 through a gazette notification issued on April 6, 2001. Under this, 21 types of food - including soya products, tomato, beet sugar and some yeasts - were to be banned. However, the ban was temporarily suspended shortly after being implemented because countries such as Australia, New Zealand and the US are said to have voiced strong objections.

An agriculture expert attached to the US embassy in India even travelled to Colombo in mid-2001 and claimed that there was no evidence to establish that GM food was harmful to humans. This was followed by Nagiah's statement over a year later in which he declared that the government had reversed its decision to ban GM food and would, instead, focus on the labelling aspect.

Then came another long hiatus. This was broken only in August 2003, as EFL charged the government with "sitting on the regulation". Earlier in the month, it pointed out that GM foods were known to be associated with toxins, allergies and reduction of immunity, sometimes leading to death.

S Balachandran, director in a firm which imports milk food and other milk products, gives the industry's point of view: "We have no problem with labelling. The only issue is that products would cost more if we are required to send samples abroad for testing."
Related Content