Very approachable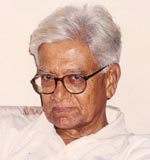 in 1995, a slightly nervous student at the Centre for Historical Studies, Jawaharlal Nehru University, New Delhi asked his teacher the bare essentials of doing well in academics. The slightly bemused professor generously jotted a down a reading list; besides an entity called Economic and Political Weekly (epw) he wrote: please consult it regularly. I must confess that I did not always follow my teacher's direction. But to the extent I did, the journal played a very important part in my fascination with social science.

But from its next issue, the inside of epw's back cover will not carry the familiar signature: published by Krishna Raj for Sameeksha Trust. For, Krishna Raj is no more.

He had taken over epw's editorship in 1968, two years after the journal began. In an earlier incarnation, it was called the Economic Weekly, the brainchild of the mercurial intellectual Sachin Chaudhuri. Chaudhuri was a person of varied callings: a film critic, an editorial writer for Sunday magazines and even the general manager of the Bombay Talkies. Krishna Raj, who took over from Bharat Hazari was on the other hand, a trained economist, an alumnus of the Delhi School of Economics. But both founder and his successor were temperamentally akin. Raj maintained Sachin Chaudhuri's intellectual tone and combined it with critical engagement with public issues. He valued commitment to conscientious research and also respected a diversity of opinion. Under Raj, epw became a liberal platform for sharing research and disseminating opinion. Says noted writer and ecologist Ramachandra Guha, "Many important social scientists made their mark writing for epw.' Eminent sociologist and an associate of Raj on the Sameeksha Trust (which manages epw) Andre Beteille says that, "The editor went out of his way to seek out new writers. Young researchers always found him approachable.' Academics, new and old, consented to write for epw for a pittance. Beteille thinks that this was largely because of the rapport they had, firstly with Chaudhri and later with Raj.

During the nearly four decades under Raj, epw carried debates on development economics, historiography, sociology, agriculture, even management and industry. Beteille and Guha find such range remarkable for a weekly. Says Guha, "Many of the major intellectual debates in India have their origins in epw.' It tackled issues about environment and women's rights much before they became fashionable in academia. Raj's abiding concern was that epw should always represent the changing preoccupations of social sciences; he also believed that this should not be done in an uncritical manner.

But epw under Raj also bridged the realms of academics and activism. Notes Guha, "It consistently exposed wrongdoing, whether by the state or political parties or industrial houses or other vested interests.' Its wide readership is testimony to its diverse concerns. "Academics, activists, students, policy-makers and even enlightened businesspeople read epw,' says Guha.

epw also became a forum for discussion on important policy matters. Says Amaresh Bagchi of the National Institute of Public Finance and Policy and a close friend of Raj, "No debate on the country's economic policy remained outside the journal's scope.' He notes that during the first two decades under Raj, epw had a "pronounced leftist tilt.' But this was abandoned in favour of a more liberal stance since the 1990s. Important ideologues and architects of India's economic reforms such as Montek Singh Ahluwalia and Shankar Acharya have since written for epw.

But the journal never shed its concern for an equitable and just world. Readers despondent with increasing communalism, the constant erosion of liberal spaces and the frequent scuttling down of civic rights by the state and the market found solace in the regular voices of dissent in epw. Like the journal, its editor too bridged realms of journalism, academia and activism with remarkable dexterity. Raj was involved in academic publishing, serving on the editorial boards of journals such as Gender, Technology and Development. He supported liberal-secular initiatives against communalism and was on the advisory board of the Centre for the Study of Society and Secularism, Mumbai.

Will epw survive Raj? Anjan Mukherjee of the Centre for Economic Studies and Planning, Jawaharlal Nehru University says "It would be difficult to fill the void.' Amaresh Bagchi agrees. Guha, however, thinks that Raj has built a capable team that will ensure that epw carries on for long. Let us hope it does.
Related Content