Tobacco taxes: a win–win measure for fiscal space and health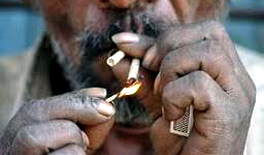 This new report released by ADB analyzes potential fiscal and health, impacts of increasing cigarette taxes in China, India, Philippines, Thailand and Viet Nam. Proposes increasing taxes on tobacco products to bring down the consumption and prevent deaths.
This study analyzes the potential fiscal, health, and poverty impacts of increasing cigarette taxes in five countries —the People's Republic of China, India, the Philippines, Thailand, and Viet Nam. For each of these countries, increasing taxes on cigarettes would result in substantially fewer long-term smokers and a reduction in premature deaths from tobacco-related diseases, while increasing tax revenues. The poorest groups in each country only bear a small part of the extra tax burdens, but do reap a substantial proportion of the health benefits of reduced smoking.
See Also
Feature: Attractive cigarette packs may
Report: Mortality attributable to tobacco.
Report: Cardiovascular harms from tobacco use.
Feature: High risk of oral cancer.
Feature: Government for raising awareness.
Report: WHO report on tobacco...
Report: The link between tobacco & poverty.
Report: Cigarettes & other tobacco products Act 2003.