Jawaharlal Nehru National Solar Mission: Phase II – policy document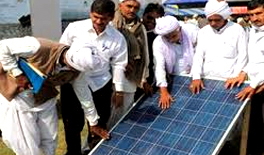 Ministry of New and Renewable Energy (MNRE) has invited comments till December 15, 2012 on this draft of Jawaharlal Nehru National Solar Mission (JNNSM) Phase-II. This phase is targeting to bring the cumulative solar capacity to 10 GW by 2017
The objective of the Jawaharlal Nehru National Solar Mission is to establish India as a global leader in solar energy, by creating the policy conditions for its large scale diffusion across the country as quickly as possible. The Mission adopted a 3-phase approach, spanning the period of the 11th Plan and first year of the 12th Plan (up to 2012-13) as Phase 1, the remaining 4 years of the 12th Plan (2013-17) as Phase 2 and the 13th Plan (2017-22) as Phase 3. At the end of each plan, and mid-term during the 12th and 13th Plans, there will be an evaluation of progress, review of capacity and targets for subsequent phases, based on emerging cost and technology trends, both domestic and global. The aim would be to protect Government from subsidy exposure in case expected cost reduction does not materialize or is more rapid than expected. The immediate aim of the Mission was to focus on setting up an enabling environment for solar technology penetration in the country both at a centralized and decentralized level. The first phase (up to 2013) focused on capturing of the low hanging options in solar; on promoting off-grid systems to serve populations without access to commercial energy and modest capacity addition in grid-based systems. In the second phase, after taking into account the experience of the initial years, capacity will be aggressively ramped up to create conditions for up scaled and competitive solar energy penetration in the country.
See Also
Report: Jawaharlal Nehru National Solar Mission.
Report: Laying the foundation for a bright future.
Feature: Let solar shine.
Opinion: Going off-grid to power solution
Feature: Solar mission's new priority.
Guidelines: JNNSM guidelines for selection of new grid...
Report: The national solar mission.
Guidelines: Guidelines for off-grid and decentralized solar applications...
Related Content