World malaria report 2012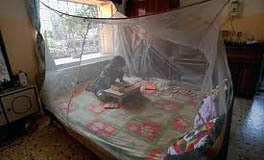 The malaria burden is concentrated in 14 endemic countries, which account for an estimated 80% of malaria deaths and India is the most affected country in South-East Asia, reveals this World Malaria Report 2012 released recently.
The World Malaria Report 2012 summarizes information received from 104 malaria-endemic countries and other sources, and updates the analyses presented in the 2011 report. It highlights the progress made towards the global malaria targets set for 2015 and describes current challenges for global malaria control and elimination.
See Also
Feature: Vectors go on a rampage.
Feature: Malaria's defiant act.
Policy: National drug policy on malaria.
Report: Defeating malaria in Asia, the Pacific, Americas, Middle East.
Report: Global plan for insecticide resistance management in malaria vectors.
Report: World health statistics 2012.
Report: World malaria report 2011.
Report: Guidelines for the treatment of malaria.
Related Content