Greening rural development in India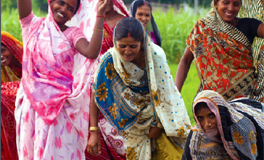 This new report released by the rural development ministry examines environmental implications of its schemes & assesses their potential to deliver green results and contribute to the national goal of 'faster, sustainable & more inclusive growth'.
The Ministry of Rural Development, with support from the UNDP released a report "Greening Rural Development in India". The report presents strategies for inclusive rural development embodying the principles of environmental sustainability. The report assumes particular significance in the light of the Twelfth Five Year Plan, which has as its objective, "faster, more inclusive and sustainable growth".
See Also
Report: Faster, sustainable and more inclusive growth.
Report: Inclusive green growth - the pathway to sustainable development.
Feature: Paying farmers for ecological...
Report: MGNREGA Sameeksha.
Mission: Rural Livelihoods Mission.
Guidelines: Common guidelines for watershed development...
Guidelines: National rural drinking water programme.
Guidelines: Indira Awaas Yojana.
Related Content