Environmental Benefits and Vulnerability Reduction through Mahatma Gandhi National Rural Employment Guarantee Scheme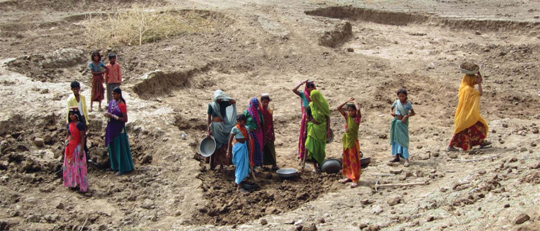 Implementation of MGNREGS works such as water conservation and harvesting works, drought proofing and renovation of traditional water bodies have contributed to improved ground water levels finds this study conducted by IISc, Bangalore.
The study on the environmental benefits of MGNREGS and reduction of vulnerability to climate risks was initiated at the request of the Ministry of Rural Development (MoRD), Government of India. The main objective of this assessment was to generate empirical evidence from different parts of India with diverse agro-climatic and socio-economic characteristics, to assess the potential of MGNREGS to deliver environmental benefits to promote conservation of natural resources, sustained water supply and food production, in addition to sustained employment and livelihoods. The study is also aimed at assessing the potential of MGNREGS works to reduce vulnerability to climate risks. Here the findings of studies assessing environmental benefits generated through implementation of MGNREGS works and their implications for reducing vulnerability to climate risks, conducted in the 4 districts of the selected 4 states namely, Andhra Pradesh (Medak), Karnataka (Chitradurga), Madhya Pradesh (Dhar) and Rajasthan (Bhilwara) are presented.
See Also
Guidelines: Convergence guidelines between MGNREGA and IWMP.
Report: CAG audit of MGNREGS.
Guidelines: MGNREGA operational guidelines 2013.
Report: MGNREGA, 2005 - report to the people.
Report: MGNREGA Sameeksha.
Bill: Mahatma Gandhi National Rural Employment Guarantee Bill, 2012.
Report: Report on revision of MGNREGA
Act: The NREGA, 2005.
Related Content