Draft National Offshore Wind Energy Policy 2013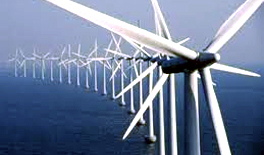 Ministry of New and Renewable Energy (MNRE) has released this draft of the policy for development of offshore wind energy projects in waters, in or adjacent to the country up to the seaward distance of 12 nautical miles from the baseline.
The Government of India in its interest to develop Offshore Wind Farm has decided to have a Policy that will enable optimum exploitation of Offshore Wind energy in the best interest of the nation and to achieve the following objectives. To Promote Deployment of Offshore Wind Farms in the first instance up to 12 Nautical Miles from Coast; To Promote Investment in the Energy Infrastructure; To Promote Spatial Planning and Management of Maritime Renewable Energy Resources in the Exclusive Economic Zone of the Country; To Achieve Energy Security, To Reduce Carbon Emissions; To Encourage Indigenization of the Offshore Wind Energy Technology; To Promote Research and Development in the Offshore Wind Energy Sector; and To Create Skilled Manpower and Employment in a new industry.
See Also
Feature: Fanning an alternative.
Report: India wind energy outlook 2012.
Feature: Power utilities oppose hike in wind tariff price.
Feature: Wind loses power.
Policy: Energy statistics 2013.
Report: Sustainable power through renewable sources.
Guidelines: Guidelines for installation of wind turbine models.
In-Parliament: Debate in Rajya Sabha on wind energy (16/08/2010).
Related Content