Report of high powered committee on how to decongest Delhi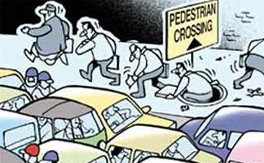 The primary solution to decongesting Delhi is prioritization and promotion of public transport and inducing people to shift towards it, from their private vehicles says the High Powered Inter-Ministerial Committee in this 'Action Plan to Decongest Delhi'.

The National Urban Transport Policy notified by MOUD states the objective that the goal of mobility in cities is on moving more people more efficiently, rather than vehicles. However, the congestion is a major problem in Delhi. Recently, The Hindustan Times, a national daily, published a special series in its 2014 August-September Edition on the ground issues related to congestion that plague Delhi with the help of analysis of experts from respective fields. Taking note of the six week long 'Unclog Delhi' campaign, Honourable Urban Development Minister constituted a High Powered Committee to prepare a Detailed Action Plan on How to Decongest Delhi. Key stakeholders attended and deliberated on important issues and recommended strategies to decongest Delhi.
Related Content