Orphans of the river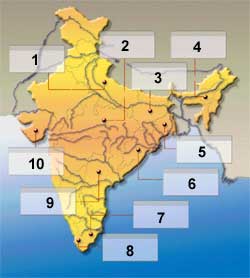 Kagjitola Bhagalpur Bihar. The struggle of 500 families on the banks of the Ganga is to the country's fisherfolk what the Chipko movement was to the forest people of India. In early 1980sit fought a successful battle against landlords and forced the state government to allow traditionalfisherfolk to fish in all the rivers of the state. Now Kagjitola's fishercommunity is on the verge of extinction. Industrial effluents have turned the river into a sewer and embankments have affected fish yield. The fish mafia has taken control over those areas where fish is still available. "We will be killed if we enter the riversays Dasrath Sahni, a resident. Many are migrating in search of odd jobs for survival.

Hajo Koiborto Tola, Assam. India's oldest fishing community, Koiborto, (mentioned in the Ramayan) is being forced to abandon its traditional livelihood source. The government has leased the fisheries to the rich contractors. The people watch helplessly as migrants from Bihar and Bangladesh backed by political groups and moneyed contractors catch fish from rivers.

Downstream of Hirakud, Orissa. The fishing skills of Jharias, a colourful traditional fishing community, are legendary. But it is of no use now. With dwindling fish catch due to industrial pollution, they have acquired a new identity: 'the gold diggers of Mahanadi'. They scavenge the sands of the river for gold dust.The gold dust will ensure a few days of survivalsays a Jharia membe.

Traditional riverine fisherfolk are the new endangered species. Whether it is the Koibortos or the Jharias, it is the same impoverished story of extinction on the riverbanks. There is data on fish species and its production but nothing on the population of riverine fisherfolk. An integral part of civilisations and arguably the oldest trading community, traditional riverine fisherfolk are today a forgotten lot in India. But there is a catch.

DRYING RIVERS, DYING PEOPLE
Pollution, overfishing, sewage and damming. The threats to fish and fisherfolk are one too many

1: UTTAR PRADESH & UTTARANCHAL
rivers: Ganga, Yamuna, Gomti
major communities: Mallah, Dhori, Kewat
population of fisherfolk * 7,610
threats: Industrial pollution, dams and barrages, water extraction

2: MADHYA PRADESH & CHHATTISGARH
rivers: Chambal, Betwa, Narmada
major communities: Goriya, Kurpalta, Pankhiya
population of fisherfolk * 19,321
threats: Industrial pollution, overfishing

3: bihar & jharkhand
rivers: Ganga, Kosi, Subarnarekha, Kamla
major communities: Mallah, Musahar, Kewat, Kaibarta
population of fisherfolk * 16,304
threats: Industrial pollution, agricultural runoff, municipal sewage, damming

4: assam
rivers: Brahamaputra
major communities: Koiborto, Maimal, Namasudra
population of fisherfolk * 7,186
threats: Pesticides, overfishing, siltation

5: west bengal
rivers: Hoogly, Damodar
major communities: Gaur, Kaibarta, Mete, Jala Malo, Gonrhi, Ghunya
population of fisherfolk * 86,504
threats: Industrial pollution, domestic sewage

6: orissa
rivers: Mahanadi
major communities: Jalia, Kaibarta, Majhi, Kandara
population of fisherfolk * 31,758
threats: Industrial pollution, dams, overfishing

7: tamil nadu
rivers: Bhavani, Cauvery, Noyyal
major communities: Bharatar, Parvatharajakulam, Pattanavan, Valaiyar, Siviyar
population of fisherfolk * 20,548
threats: Industrial pollution

8: kerala
rivers: Periyar
major communities: Dheevara, Bharatar, Mogaveera, Valan, Bovis Mogayar, Cholanaickan
population of fisherfolk * 1,08,526
threats: domestic sewage, water extraction

9: andhra pradesh
rivers: Godavari, Krishna
major communities: Angikula Kshatriya, Balija-vada, Bestha, Pattapu, Neyyala, Jalari
population of fisherfolk * 74,892
threats: Industrial pollution, domestic waste

10: gujarat
rivers: Narmada
major communities: Mangola, Varli, Machhiyara
population of fisherfolk * 6,114
threats: Industrial pollution, dams

* Population includes inland and coastal fisherfolk The disappearance of India's traditional fisherfolk is riddled with a strange irony: India's inland fish yield went up by eight times in the last four decades. It now contributes more than 40 per cent of the country's total fish production and 1.4 per cent of the gross domestic product (GDP). In the Ninth Plan, the Union government allocated around Rs 207 million - 400 times more than its allocation in the First Plan. During 1998-99, 46.3 per cent of the fish catch in the country was from the inland fisheries. In the same period, inland fish production witnessed an annual growth of 10 per cent (marine fish production was only 5 per cent). With an annual fish production of 2.8 million tonnes, India stands second in inland fish production, next only to China.

But these wonderful figures mean nothing to traditional riverine fisherfolk: over 78 per cent of inland fish production comes from aquaculture - intensive fish farming from reservoirs and other waterbodies. India's big 'blue revolution' has failed to touch the lives of riverine fisherfolk, the trade's original masters. There is a dedicated department or ministry in every state to look after fisheries development, but none for the welfare of fisherfolk.

Even the census of India refuses to acknowledge them as a separate community - it doesn't have clear classification of the riverine fisherfolk. Neither do they exist in the livestock census. Deciphering the number of riverine fisherfolk is left to the guesswork of the researcher. Marine fisherfolk are, however, classified as coastal or deep sea fishers. With rivers dying due to pollution and dams and embankments altering the flow, fisherfolk are being fast pushed into oblivion.

Though no official figures are available for the riverine fisherfolk, their population is estimated to be around 0.45 million. This also includes the coastal fisherfolk. A large chunk of the 387 communities of fisherfolk, which the Anthropological Survey of India has identified, is involved in inland fishing. These people are dependent on the 191,024 kilometres (km) of rivers and canals and the numerous wetlands and reservoirs.
People protest
Kagjitola is a symbol of the riverine fisherfolk's plight. It is unimaginable. A huge river like the Ganga failed to sustain even 500 fishing households. Several boats that lie on the outskirts of the village showcase what Kagjitola and its inhabitants have become - out of job, abandoned and neglected.We fisherfolk are cursedsays Dasrath Sahni, a resident. Till the 1980s, two feudal families claimed fishing rights over an 80-km stretch of the river from Sultanganj to Pirpaiti. Dasrath and his fellow fisherfolk had no choice but to work under this oppressive regime. Inspired by Jaiprakash Narayan's Total Revolution, they launched a movement in 1982. After a decade-long struggle, they managed to free themselves from the clutches of the feudal lords - the Bihar government made all the rivers free for fishing. But that has not made much difference. The fish mafia has now replaced feudal lords (see box:We will fight...").

Though an unorganised sectorfishing in Bihar provided sustenance to thousands of people - government figures vary from 80to 1100In the 1960sthe Kosi belt of north Bihar produced 52 per cent of the spawns of the country. In times of faminefish used to be distributed to the affected people. Nowthere is a famine of fish. There is nothing to catch.
Identity crisis
In Biharthe government has issued identity cards to the traditional fisherfolk. But this card imposes some weird restrictions. For examplethe fisherfolk of Kagjitola can fish only in a particular area. This area isin factthe river bank. The riverit seems is reserved for the contractors or the fish mafia.

Take the case of the Koibortosnot very far away from Bihar. The community (numbering around 40has been fishing in the nearby Sesa Noi and Hajikoti rivers since early 19th century. "It all changed when money came into thissectorsays Nageswar Medhi, a resident of Koibortos. The government grants lease for fishing to the rich contractors, though they are supposed to be leased to the traditional fisherfolk. The contractors squeeze the fisherfolk.The whole benefit goes to the contractor and the poor fisherfolk get almost nothingrues Horidhan Das, another resident of the village.Fisherfolk from the Kahalgaon area are working as fish labourers in the estuarine areas of the Ganga and the Sunderbanssays Harekrishna Debnath of the Kolkata chapter of the National Fishworkers' Forum (NFF).
Role reversal
In some states, non-fishing communities are edging out traditional fisherfolk. The Dheevaras of Kerala are a case in point. This low caste Hindu community was traditionally involved in inland fishing. In the Kuttanad region, they used to be an integral part of inland fishing. According to a study by R V Jose, professor and head, department of economics, Church Mission Society College, Kottayam, non- fishing communities like the Ezhavas have driven out the Dheevaras. In West Bengal, less than 25 per cent of the people involved in fishing are traditional fisherfolk. Way back in the 1930s, the Malo Barman community of the Titash river in the erstwhile east Bengal was rendered jobless when the river degraded.You hardly find traditional fisherfolk involved in fishing in Assam. It is done bypeople from Bangladesh and Biharsays Mrinal Baruah, director of fisheries, Assam government.

A study done in the early 1980s by M P Srivastava and J S Dutta Munshi of Bhagalpur University, Bihar, on the spawn fisherfolk of the Kosi river showed that while the average per capita income of a person for catching a certain amount of spawns was Rs 10, the same amount was sold in the markets of Kolkata for Rs 300. Another study by S C Dey and D Kar of Gauhati University in 1989 showed that the per capita income of fisherfolk of the Son lake in the Barak valley ranged from Rs 1.30 to Rs 8.25. Poor food intake makes them susceptible to diseases.Fisher households spend a considerable amount of their income on medical treatmentssays the study.
Scheduled status
Riverine fisherfolk have not been classified in the caste lists of the governments. Most of the fisherfolk are scheduled castes (SC) and scheduled tribes (ST), depending upon the ethnological characteristics of an area. But there have been squabbles over their status. A classic case was when the Madhya Pradesh government gave ST status to the Majhi tribe only in the Vindhya Pradesh area. In 1976, the benefits were extended to the whole state, but the Mahji sub-castes were still put under the other backward castes (OBC) list. When chief minister Digvijay Singh wanted to grant all Majhis with a ST status, political pressure, caste politics prevented him and now Majhis are again left nowhere.

A glance through official documents reveals the priorities of the government: aquaculture is the mantra for fish production in the country. For example, Andhra Pradesh sends cultured fish to 17 states, most of which have very rich river systems.Over 80 per cent of the fish in Andhra goes to states like Orissa and Assamsays K Gopakumar, deputy director general, fisheries, ICAR.

Since 78 per cent of the inland fish production comes from aquaculture, the riverine capture fisheries and its fisherfolk don't feature on anybody's agenda.You willfind information about marine fisherfolk but nothingon riverine fisherfolksays Debnath. Every state has its own fisheries department, which is primarily concerned with fish status, not for the welfare of the riverine fisherfolk.
Seeds of alienation
Even for fish seed production, traditional fisherfolk are being left in the cold. Between 1973-74 and 1998-99, the fish seed production has increased by 37 times. The per capita availability of fish is now 8.11 kilogramme (kg) per annum. Going by the requirement of 11 kg/annum, the present supply has to be doubled. There is still a huge gap between fish seed production and demand. Fish farmers' development agencies of the governments are gearing up to meet this demand. The World Bank also has moved in for support - it has invested in aquaculture and shrimp farming in many states of India.

However, seed from induced breeding sources is preferred over riverine or other natural sources. People with ownership of breeding sources like ponds, or rich contractors who can acquire lease, are in business, edging out the traditional fisherfolk once again.
Related Content