Human carelessness adds to the destruction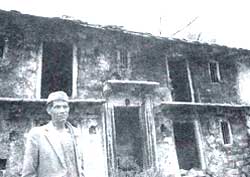 FLASH floods and landslides in the Himalaya are caused at times by unplanned development. On August 14 last year, the fast-developing town of Gopeshwar and its surrounding villages was inundated by heavy rainfall and 27 people were killed in resulting landslides.

Flooding caused by an irrigation channel left incomplete by the irrigation department above Gungol village, 6 km northwest of Gopeshwar, led to destructive landslides. The villagers pointed out that in the traditional irrigation system called danda gol, a channel would have been constructed to divert excess water into the valley and everyone was responsible to ensure the channels in the fields drained water systematically down the slopes, thereby avoiding flooding and slides.

The slopes surrounding Dewar village, east of Gopeshwar town, have long since been stripped of its vegetative cover to meet the needs of the growing town. Eighteen persons have been killed by mudslides and rockfalls. Villagers in Pipriyangaon, on the Chamoli-Gopeshwar road, say they have made numerous appeals to the district authorities about incomplete scuppers and water channels above their village, but in vain.

For the villagers living locally, their consolation was stated by one of them, who said, "Yeh sab Devi ka prakop hain. Ek baar aapne prakriti se chedkhani ki, to aapko Devi ka krodh dekhna padega (This is all due to the wrath of the goddess. Once you disturb nature, you will have to face her rage)."
Related Content