Forest rights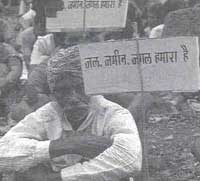 THE Indian government's plans of green signalling the Nagarhole Tiger Project in Karnataka's Mysore district has incurred the wrath of several activists, academicians and lawyers - many of them tribals.

A meeting was held at Anandwan, in Chandrapur, Maharashtra, from July 14 to 19, to formulate alternate drafts of the National Forest Bill and a National Rehabilitation Policy.

An organisation, the National Campaign for People's Forests, was formed at this meeting to protest against the Centre's recent decision to hand over forests to the industry forcaptive plantations. In a letter to the prime minister, this anti-people move which violates the 6th Schedule of the Constitution, the Forest Conservation Act, 1980, and the Forest Policy, 1988, was strongly criticised.

The alternate draft bill puts forest dwellers at the centre of forest management and begins with the gram sabha and the forest dwellers' communities as the basis of forest management.

The draft rehabilitation policy asks for a new land acquisition act instead of the present one dating back to 1894. It was reiterated that before a project is finalised, all possible alternatives should be examined. When displacement is imminent, people should be involved in the project's implementation.
Related Content