Building self reliance in children of the street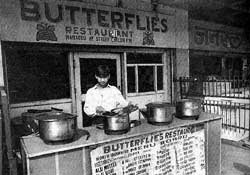 "Hum yahan bahut khush hain. Raat mein restaurant mein hi padhai ki class hoti hain (I am very happy here. Night literacy classes are held at the restaurant itselt)," says 17-year-old Bhagwan Singh. For two years now, Bhagwan has worked at Butterflies, a restaurant in the Inter-State Bus Terminus run entirely by 12 street children.

The idea for a restaurant came from Butterflies, a non-government organisation that has been working with street children since 1987. Coordinator Rita Panicker explained, "As 70 per cent of a child's earnings goes into food, I suggested they pool their money and open a restaurant. They got excited about the idea and launched the restaurant in 1989. It provides food at subsidised prices to street children."

But Panicker has a complaint. "The flow of customers has b een low because. it is situated behind- the market. Right now, we are picking up the tab thanks to grants from various agencies, but this is not a long-term solution."

The restaurant pays Rs 8,268 to the Delhi,Development Authority (DDA) in 6 rent, in addition to water and electricity charges. S P Biswas, joint secretary in the Union ministry of welfare, disclosed, "We have written to the DDA to subsidise the rent, but a decision has yet to be taken."

There are 4 lakh working children in the Capital, one- fourth of whom are homeless. Butterflies has eight educators who conduct literacy classes attended by more than 800 street children. The educators mobilise the children who meet at a number of points in the city for a bal sabha (children's assembly) every Monday. "They discuss their problems and share each other's experiences," says Panicker.

Butterflies is not only collecting data on the types of work people can offer street children, but also helping child porters at the INA market, whose earnings are irregular and who face constant harassment by police. "Butterflies helped them to form the Bal Mazdoor Union (BMU) in January 1992 to fight for their rights," explained Panicker.

Says 16-year-old BMU meri6ber Deevadin, who has worked at INA for six years, "T6 first major decision the union took was to fix the minimum wage at Rs 5 and in I case of violation, one was not allowed to work here." As a result, he adds, he earnshb ut Rs 70 a day now, as against Rs 40 earlier.
Unexpected setback But the 70-member BMU suffered a setback when its application for registration under the Trade Union Act was turned down because those under 18 cannot join or form a. union. "The BMU intends to challenge the act in the Supreme Court," says Panicker.

Girls form 14 per cent of the working children in the Capital and Panicker disclosed Butterflies is in contact with 150 of them. "They take interest in the literacy classes and want to join the union,too."

Panicker contends only a, street-based organisation can tackle the problems of street children at the national level. Given their sheer numbers - a conservative estimate is 5 per cent of 48 million working children - institutional care alone will not suffice. "Till two years ago," says Panicker, "a state-run care unit spent Rs 745 per kid a month against Rs 200 by a voluntary organisation. Moreover, state-run units are lacking in conce Irn and committed workers."

Biswas agrees, saying, "Butterflies is on the right path, but the ministry is yet to consider street- based projects as a viable alternative to institutional care."
Related Content