Ladies of the lake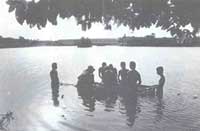 ON NOVEMBER 7, residents of Vivekanandapally in Calcutta staved off yet another attempt by a group of real estate developers, which has been trying to fill up a shallow 0.134 hectare lake in the area for more than a decade. The developers, lured by the prospect of selling the filled lake at high prices, deployed men armed with country made bombs and pistols to threaten the men of the area. But the women residents fended off the attack by forming protective rings around the men.

Hundreds of people from the surrounding areas joined the protest against the estate developers. Says Ranjani Mukherjee, who was among the protestors, "Though some of us have been warned our children will be kidnapped, we shall continue to confront them."

The Vivekanandapally lake is one of several waterbodies in Calcutta that are threatened by urban development. They are important to the city's natural drainage and a source of livelihood for thousands of fisherfolk. Though the state government has passed tough legislation to prohibit the filling up of waterbodies, public resentment at ineffective enforcement of the law is increasing.

It is felt the developers will not yield because most of them have strong links with major political parties in the state. Says Jatin Karmakar of Vivekanandapally, "It is well known that these agents enjoy the patronage of the CPM." And, as if to drive home the point, a group of developers succeeded in filling up a lake of almost similar size at Shribumi, situated just 2 km away, during the protests at Vivekanandapally.
Related Content