Tapping into the source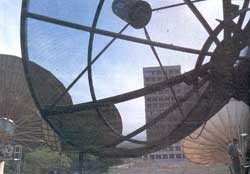 INSERT this: you are a scientist who must travel frequently but your presence in a static laboratory is essential every breathing moment. Delete that: you are a cybernetic organism, a brain, almost electronic in its stamina, that must also refer to the scientific information busily accumulated by your research group for discussions with other scientists -- but you can't carry all those papers when you travel, and you have a flesh-and-blood body to take care of. That means your brain has to shift when your body does.

Occasionally, you have to be in synaptic touch with your collaborators in other parts of the world. You are also required to keep abreast of the endless reams being published in your research area. And, just sometimes, you need a bloody break -- read some quake sobnews or simply play chess gladiator against a supercomputer.

How do you cope? A personal computer, a modem and a telephone connection are all you need, apart from amphetamines, to sail you through your multifarious tasks. Electronic networking -- already almost global in its reach -- has revolutionised information technology. The networks are built by linking computers all around the world through satellites and telephone lines that are rapidly being upgraded from slow copper coaxial cables to almost instantaneous fibre optics. Subscribe to an electronic network and you could "talk" to or send messages to most of the 20 million people connected to the network.

If your company or research facility is part of a network and if you can carry one of those elbow-tucked "notebook" PCs, you can send messages to your colleagues through electronic mail and vice versa. All you need is a telephone point. Soon, with the arrival of iridium technology, not even that. Then it's direct ground-satellite-ground.

Cutting rings Soon, they could be celebrating Dead Phones Day: leave the lines free for electronic mail -- or e-mail -- now routinely used by research institutions, corporate houses, government organisations and individual customers in the West. Says Andrew Grove, chief executive officer of the California-based Intel Corp which initiated the information revolution with its microprocessors, "Companies that use e-mail are much faster, much less hierarchical -- it squeezes all the slack out of the system, it also gives you the opportunity to course-correct much more rapidly."

Scientists at US research institutions were the first to start using the network and today scientists who are not e-mail users are considered techno-peasants. Claims Lawrence Berliner, a biophysicist at the Ohio State University, Columbus, US, "E-mail is the one of the greatest inventions of this century -- extremely useful for research."

The basis of this global spider's webbing is Internet -- a loose but hyper-efficient amalgam of thousands of networks worldwide. Internet popped into existence in the early '80s, when the US's National Science Foundation (NSF) linked 5 national supercomputer centres to all the educational and research campuses via a long-distance network, obviating the need for the researchers to physically move to the centres where the machines were kept, dry, dust-free, clinical and utterly humourless.

Now, students use Internet to exchange jabberwocky, access outstation libraries and borrow books and other materials; business people use it to transfer trade documents across continents, or make hotel reservations; investors access it to get stock exchange information; children enjoy reading world encyclopaediae or playing new video games; and housepersons or telespuds browse through the electronic mall and buy, buy, buy.

And it was recently, publicly and embarrassingly, over Internet that an American academic blew the reputation of Intel's much-vaunted Pentium chip to bits.

India's head in a hole
Although e-mail is extremely simple, cheap and quicksilver, in India it is still crawling from metro to metro and within. The cost of transmitting one 8.26" X 11.69" (A-4) size of data works out to Rs 2 or less, against Rs 30 for fax and Rs 50 for telex. Say Gunjan Bhatia and Sudhir Chowdhary of Telematics India, a communications, computers and networking journal, "For an average Indian, whose use of telecommunications is restricted to telephone and fax, e-mail is still a novelty -- because, till recently, the service providers in our country had been government-controlled."

Apart from a head in an information hole, it is the steepish initial investment that keeps Indians away from e-mail or networks. Says Brahma Reddy, a network expert at the Union ministry of planning's National Informatics Centre (NIC) which operates NICNET, created in 1988 and now the country's largest computer network, "Even the scientists and engineers who are instrumental in running the NICNET cannot afford a computer at home or make use of the information available in the net. Unless the standard of living improves, it may not be accessible to average Indians; the government should provide the facilities as a public service, like NIC's PCs are available for NICNET subscribers."

The concept of networking was introduced to Indian researchers through the education and research network, or ERNET -- begun by the Department of Electronics (DOE) in 1986 as a pilot project to demonstrate how to link up Indian universities and research institutions. With its backbone sites in 15 major Indian cities, ERNET currently operates just 300 nodes across India and neighbouring countries like Nepal and Bangladesh. ERNET has its gateway to international mails at its backbone site at the National Centre for Software Technology, Bombay.

ERNET is, however, overloaded: it can transmit only 9.6 kilobits per second and it relies on telephone lines that collapse frequently. An upgrade to 64 kilobits per second as well as establishing satellite links have been on the cards for a long time (see box 3). But DOE officials are rather unhappy with the government's poor investment in the ERNET project.

On the other hand, NICNET was able to establish satellite links with a master earth station at New Delhi and 700 satellite dishes scattered around the country. NICNET originally started for government officials to access information -- data such as the amount of rain received in a particular region -- is now accessible from 462 district NIC headquarters and 32 state capitals and 44 medical institutes in India.

With a total investment of Rs 224 crore, NIC launched in September last an information highway by upgrading the NICNET's speed to 2,200 kilobits per second. A 100-page document can now be transmitted in a second, claims NIC deputy director N Vijayathidya. The highway, which connects 14 cities of high export potential, will soon be extended to link 70 towns and cities. It also provides a direct link with Internet through Sprint, an American telephone company.

To facilitate quick communication and information exchange between the Council of Scientific and Industrial Research (CSIR) scientists and their counterparts elsewhere, the Indian national scientific documentation centre (INSDOC), New Delhi -- a CSIR institution -- created a scientific and industrial research network called SIRNET. It has about 50 nodes in the country and the scientific literature databases created by INSDOC are available online -- directly through a computer.

Says INSDOC's director, T Viswanathan, "We offer excellent databases -- although many scientists receive the information as hard copies, there are hardly any online requests. Online culture has not yet picked up in this country because the subscriber trunk dialing charges are still too high. However, e-mail is becoming very popular among the researchers."

The government's department of telecommunications (DoT) and the Videsh Sanchar Nigam Limited (VSNL) have gone commercial in providing network services to any individual or business through their respective networks, INET and GEMS.400.

While GEMS.400 uses telephone links, INET -- introduced by DoT in 1992 -- uses leased lines with 9,600 bits per second speed and is spread across 84 cities. Both GEMS.400 and INET connect to international networks through VSNL's international gateway called Gateway Packet Switched Service, available only in Bombay or New Delhi.

Databases worked to the knuckle
Part of the worldwide success of electronic networks owes to the nearly 7,000, mostly online, databases available today. Breaking down the conventional information transfer mechanisms -- both "formal" and "informal" -- these databases are almost omniscient, certainly terrapotent. For instance, Medical Literature Analysis and Retrieval Systems -- or MEDLARS -- is the most extensively used biomedical infobank in the world.

MEDLINE -- the most important database of MEDLARS, containing articles from over 3,500 biomedical journals published in 70 countries -- helps physicians and researchers worldwide to access all available literature on virtually any topic, except that kept expressly off the nets for reasons of governmental or corporate secrecy.

MEDLARS can be accessed through an account purchased from the National Library of Medicine (NLM), Bethesda, USA -- the organisation which creates and maintains these databases. NIC has been designated by NLM to provide the MEDLARS services in India for a nominal price -- either through NICNET or other conventional means. Says Vijayathidya, "More than 100 medical institutions in India have direct access to MEDLINE through the centre and the number is growing rapidly."

Several Indian organisations, too, have realised the significance of the database services and ventured into making their own databases for information dissemination.

For instance, INSDOC has started a service called Contents, Abstracts and Photocopies Service (CAPS). For a small subscription, you can access the contents of any of the 5,000 journals covered by the service. Says Viswanathan, "It is equivalent to bringing down the whole library to you and you can browse the contents quickly and buy photocopies of only those articles which would be more appropriate for your research."

This service has become quite popular among researchers and 200 institutions are already availing of it. The rising prices of foreign periodicals and reduced budgets have forced many university libraries to discontinue subscriptions to foreign journals. CAPS fills the cavities for the researchers.

Bioinformatics
Biotechnologists constitute perhaps the only research community in India which fully exploits networks and databases -- thanks to the biotechnology information system network (BTISNET). Says INSDOC director Viswanathan, "They have the basic urge to seek information, and biotechnology today itself has become a knowledge-based industry."

Since its inception in 1987, BTISNET -- operated by the government of India's department of biotechnology (DBT) -- has grown into more than 30 informatics centres -- each associated with a university or research laboratory -- and allows the life scientists to access information across the globe. For instance, V Ponraj at the Madurai Kamaraj University was recently able to get the structure of an important membrane protein which was just deposited with the European protein databank at Heidelberg in Germany. It would have taken months otherwise.

But while the world is shrinking in the florid face of a telecommunications revolution, networking in India is still entangled in problems associated with the government's policies. The archaic Indian Telegraph Act enacted in 1885 -- which prescribes the operation of telecommunications as an exclusive privilege of the Indian government -- is a crick in the growth of electronic networks in India.

Says an agitated Atul Chitnis, a Bangalore-based computer consultant and network expert, "DoT -- so far the sole player in the Indian telecommunication arena -- blocks information flow through its unreasonable licensing guidelines and unreliable telephone infrastructure. Somebody should stop it, otherwise India will regress into the stone-age of communications."

Online offline connection
Agrees Kishore Bhargava of the New Delhi-based Executive Computer Training Centre, "If there is one thing that is consistent about India's telephone system, it is the terrible quality of the lines -- the line noise often does not allow you to stay online. Moreover, the beep which comes after the first 5-minutes of telephone conversation often disconnects the modem connection."

The telephone charges, especially if you want to connect to a remote host through an STD call, are high. Says INSDOC's Viswanathan, "Unless there is a great reduction in the telephone charges, the enormous information available through database services will never be utilised effectively. Even educational institutions, leave alone individuals, find online access to our scientific databases very expensive."

The vendors of value-added services -- like e-mail and electronic data interchange -- must pay a licence fee of Rs 25 lakh in the first year, along with a performance guarantee of Rs 5 lakh. Apart from this complicated fee structure, DoT regulations do not allow the crosslinking between different vendors in India. As a result, explains Chitnis, if a subscriber of one Indian service wants to send an e-mail to a subscriber of another Indian service, the mail is birdbacked out of the country by an international network and pigeonholed into the other Indian service -- provided that the international network has links with both the Indian networks.

The recently announced National Telecom Policy 1994 (NTP), which invites private sector participation in the provision of basic telephone services, is expected to improve things. Says Nagarajan Vittal, former chairperson of the Telecom Commission which drafted NTP, "Economic liberalisation and foreign direct investment will not be possible unless the telecom infrastructure in this country is improved."

While the telephone idiot-line infrastructure is an obstacle, ignorance about the networks is definitely another, and no smaller. Says INSDOC's Viswanathan, "Our people are still used to old-fashioned paper correspondence -- we need a cultural change for the electronic networking to become successful."

But S Ramakrishna, director of Department of Electronics (DoE) puts the blame elsewhere. "The problem is more to do with the services than the users. For instance, ERNET first introduced the Indian research community a relatively unknown concept of networking with technical aid from the United Nations Development Programme. Researchers have picked up the concept within no time and they are ready to make use of any services provided over the net but the ERNET received stepmotherly treatment from the government," he says.

Although the government recently agreed to allocate Rs 4.57 crore to ERNET, a certain miasma of murky politics appears to block the government's different attitude towards the 2 networks -- ERNET and NICNET. Contends Viswanthan of SIRNET, "NIC makes skyhigh claims like their information highway replacing the telephone system in India, a claim which the policymakers in the government believe. But the truth is that people need to use the telephone lines to even dial up NIC's computers."

In spite of its huge initial investment, NIC, say many network users, is not able to make much of a difference in the way government departments operate. People claim that computers at NIC's regional stations are used more as typing machines than for accessing databases. NIC's Vijayathidya refutes this: "There is a difference between scientific institutions and government departments because the concept of a computer itself is very new to the latter."

Others like Viswanathan feel that these problems would not exist if there were a single network which could easily cater to everyone, irrespective of whether they are data-gorging educational institutions or chugging government departments.

Unless India irons out these problems, it may not be able to tap the enormous amount of potential available free in the global information highway which is growing in the absence of interference from most other governments in the world. Moreover, India is also losing out in making use of a cheap and fast mode of communication which could knit rural and urban areas tighter. Says Vittal, who is now associated with the DoE, "We are in the crawling stage of networking. With our present efforts, we will soon be able to join the global information highway."

But the "global information highway", attractive as it sounds, contains wads of speeding and now crumpled technologies -- and a finger-count of countries let loose by suddenly woken governments -- by its sides. This could be another elite technology at the expense of the taxpayer's money. Or it could be the very heaven.
Related Content