Pokharan related?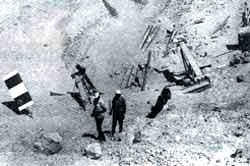 THE HIGH incidence of bone cancer and leukaemia in western Rajasthan has led doctors to advocate studies be carried out to ascertain whether the 1974 Pokharan nuclear test is responsible in any way. A retrospective study of malignancy frequency in the region, conducted by R G Sharma and his associates of the Dr S N Medical College in Jodhpur, found 2,662 new cancer cases were recorded between 1984 and 1988 (Indian Journal of Cancer, Sept 1992). The incidence of bone and articular cartilage was higher elsewhere in the country, with a majority of the victims being under 20 years of age. A major cause of bone malignancy is ionising radiation, but the doctors caution no correlation should be made with the Pokharan explosion unless further studies are done. The incidence of leukaemia was 5.2 per cent for men and 4.7 per cent women, compared to the world figures of 3.3 per cent and 2.6 per cent, respectively.

Oral pharyngeal and laryngeal malignancy cases were the highest (21.9 per cent) among all cancers and also the most common among men. The occurrence of these cancers has been attributed to tobacco consumption. Cervical cancer was the second most common (18.2 per cent) and also the most frequent among women.

Most cancer patients (68.5 per cent) were between 31 and 60 years. People in this age group form only 26 per cent of the population, but are susceptible to disease because of poor environmental conditions, malnutrition and tobacco use.