Mass movement against Dunkel draft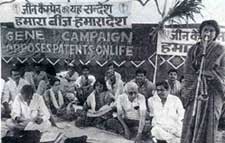 THE CAMPAIGN against changes in India's patent, science and investment laws, to bring them in line with the draft proposals of Arthur Dunkel, director-general of the General Agreement on Trade and Tariffs (GATT), will now move to the legislatures and the courts.

Formulated by the Azadi Bachao Andolan (ABA), a front of 45 voluntary organisations and trade unions, the campaign will be carried out in Parliament and at the state government level and will involve the general public. The most radical effort will be to get non-Congress-ruled states to file writs in the Supreme Court challenging the validity of the changes in laws, on the ground that the Dunkel draft has implications for several State List subjects, such as industrial investments and public health care.

On August 9, the anniversary of the "Quit India" movement, the Hind Mazdoor Kisan Panchayat, the largest constituent of the ABA, hopes to mobilise 50,000 people to resort to civil disobedience and court arrest in state capitals. The ABA also wants to generate significant political will in the opposition benches.

This shift away from the seminar rooms of the National Working Group on Patent Laws (NWGPL) and Gene Campaign, two organisations that have been building opinion against the GATT proposals, may compel the government to rethink its conciliatory position on them. Early this year, when the government appointed the Arjun Singh Committee to look into the proposals, it did not even invite the NWGPL for discussions, which, whatever it may indicate about the committee's seriousness, certainly showed that the NWGPL could be bypassed without any political repercussions.

While the NWGPL has formed the ABA, Gene Campaign, formed in January 1992, is also shifting towards mass mobilisation. The movement is motivating farmers through local community leaders and medical and agriculture officials. According to Suman Sahai, convener of the Gene Campaign, 50 centres will be set up throughout the country as part of the information campaign.
Related Content