Ousted by an IIT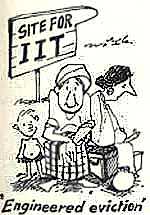 IN 1987, the late Prime Minister Rajiv Gandhi offered to set up an Indian Institute of Technology (IIT) in Assam as one of the sops to quell the student agitation in the state. Five years later, the country's sixth IIT is all set to come up in Silagrant village in North Guwahati district. This may bring cheers to the aspiring engineers, but its its effect on the about 300 families who face eviction from their agricultural and residential holdings, the proposed complex is a disaster.

The 300 villagers were served an eviction notice last year by the local administration, requiring them to vacate their land by the year-end. But the state government has delayed enforcing the orders for fear of aggravating the tension in the Silagrant area.

"Let them shoot us first," says Kaliaram Barman, voicing the attitude of those awaiting eviction. "We are ready to give up our agricultural lands, but why do they want our hearths."

Local authorities admit that besides small alternate plots they have not offered any other compensation in cash or kind. But land offered to displaced people is nothing but an extended swamp, the villagers complain.
Related Content