Safety undermined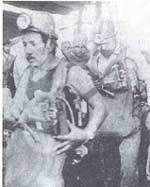 EVEN BEFORE disaster struck the New Kenda coal mines of the Eastern Coalfields Ltd (ECL) in Asansol on January 25, ECL had earned the dubious distinction of running the maximum number of accident-prone mines. As many as 10 of its mines rated high on the accident frequency rating.

The company's disaster management system, it comes to light, was woefully inadequate; and because of a lackadaisical attitude, 55 workers died in agony of carbon monoxide poisoning. As usual, it is belatedly left to a judicial inquiry ordered by the government to determine the causes of the disaster -- one that, as some Coal India Ltd (CIL) officials admitted, "was avoidable".

This echoed the words of the minister of state for coal, Ajit Kumar Panja. Panja had told the standing committee on safety in coal mines: "I have observed a large number of avoidable accidents taking place in coal mines." Panja has directed CIL to prepare a detailed safety audit of all mines, especially underground ones, which account for more than 80 per cent of coal mine fatalities.

The accident has raised serious doubts about mine safety and the capability of what are clearly jerry-built rescue operations to cope with disasters. The ECL authorities were unprepared. They lost nearly four vital hours because the rescue apparatus and experienced rescue teams had to be brought in from distant places.

Safety measures flouted
Trade union leaders allege that safety measures and mining rules were flouted and that the management was negligent. According to the secretary of the Colliery Mazdoor Congress, Pratap Singh, "A combination of misjudgement and callousness was responsible for the tragedy. The stopping walls were not regularly checked and a leak that had appeared in one of the walls near the accident site was not attended to."

Workers allege that the tunnel was made wider than stipulated, in an effort to increase production. The ill-fated workers did not have respirators and underground telephones. The level of methane was not measured despite complaints. Besides, there was no contingency plan to fight such a fire and water tanks, hydrants and foam needed for fire fighting were inadequate. Trade union leaders point out that liquid nitrogen required to douse flames was not available in sufficient quantity. Besides, it took too long to locate an appropriate spot to drill a 90-metre hole to spray the nitrogen.

ECL officials pleaded that the magnitude of the disaster had complicated rescue operations and that the lethal gas had hampered them. They conceded, however, that "it is necessary to introduce automatic monitoring devices to assess gas accumulation at all the mines".

Unfortunately, it took a tragedy of this magnitude to focus on the sharp rise in casualties from fire and gas explosions in 1993. Greater attention, however, needs to be paid to the nature of accidents and the capability to deal with them. The coal ministry had said in its status report on mine safety, presented at the Parliamentary consultative committee meeting in December 1993, "Unfortunately, during the current year whatever gain could be achieved because of continuous monitoring of fall of ground (roof and wall collapses) as the major cause in underground accidents, was lost on account of casualties due to gas and explosions jumping up from 1 to 13."

The committee reiterated the need to monitor methane and carbon monoxide in the mines. However, ministry sources admit that "attention was almost wholly focused on accidents caused by roof and wall collapses, which were responsible for more than 60 per cent of the deaths in underground mining."

Though ministry officials now promise the supervision of mine safety measures will be more stringent in the future, they do not rule out occasional accidents, given the hazardous nature of mining. Says B M Makhija, joint secretary in the ministry, "With better supervision and application of mine safety measures, we can at least approach zero."
Related Content